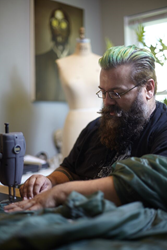 Dyrdahl said, "Wearing a recycled parachute dress is not for everyone. As soon as people know you are wearing something recycled, let alone a parachute, they will be talking about you."
New York, NY (PRWEB) September 30, 2015
Designer Andrew Dyrdahl is designing a formal dress for Actress Ann Mahoney of THE WALKING DEAD to wear for her red carpet premiere at Madison Square Garden on October 9th. This dress is unlike any others because it is made from a recycled military parachute. In order to wear a unique dress like this, it is important to know how to work with it. Dyrdahl gives us three quick tips to wearing this type of gown: 1) Make sure you are prepared to handle a lot of attention, 2) make sure if you are wearing this type of dress you have an appreciation for its origin so you feel as beautiful as you will look and 3) be aware that the fabric moves differently than your typical dress.
Dyrdahl said, "Wearing a recycled parachute dress is not for everyone. As soon as people know you are wearing something recycled, let alone a parachute, they will be talking about you. Sometimes people can be mean and if you can't handle the attention then you should probably choose another style of dress." Actress Ann Mahoney has had her fair share of people saying mean things about her and her weight. She believes in loving herself just the way she is and helping those who have struggled with body image issues. Mahoney said,"A dress like this is perfect because I love that it allows me to be bold and proud of who I am."
This type of gown deserves to be worn by people who appreciate the origin of the gown. Dyrdahl said,"I want to create intriguing dresses for those who really appreciate that I am choosing a very special fabric to make them feel beautiful. The dresses were designed for the uniqueness of every woman. I want to design for those women who really understand the beauty of the gown."
Mahoney said, "This dress has a very special meaning for me. My mother-in-law heard about my dress and told me this story. In 1945, in Hungary, my mother-in-law had survived the Holocaust, but supplies like food, clothing, and other necessities were scarce.
The American troops were dropping bright orange and red parachutes full of supplies. After the American troops collected their supplies, the Holocaust survivors, would compile the parachutes and make clothing out of them. When my mother-in-law told me this story we thought it was such a brilliant coincidence that her first clothing after surviving the Holocaust was made out of recycled parachutes. And that my first dress on the red carpet for THE WALKING DEAD will also be made out of a recycled parachute. I got chills up and down my spine. What an extraordinary coincidence, or as I would say "a God thing."
Lastly, a woman wearing this dress should be prepared to allow the dress to flow as you walk. The fabric will move much differently then a typical dress. Dyrdahl said, "These gowns are made to catch the air, they are beautiful and the flowing fabric is dramatic. I am beyond excited to see someone as special as Ann gracefully walk the red carpet wearing this significant dress."
Andrew Dyrdahl is a Steampunk artist and fashion designer living in Seattle, WA. He has been creating avant garde fashion for 23 years and found object art for the past 7 years. He holds a BA in Fashion Design and Merchandising from Seattle Pacific University and an AAS in Fashion Design from The Fashion Institute of Technology in NYC where he graduated Suma Cum Laude.
Dyrdahl now takes his love for assemblage and sustainability in design into his fashion creations. One of his re-creation endeavors takes the form of diaphanous evening gowns made from retired military parachutes. "It is the perfect juxtaposition," says Dyrdahl, "A contrast of industry and luxury."
Ann Mahoney is a significant rising star in the industry. She is not only a regular character on THE WALKING DEAD but has been cast in the award-winning show, RECTIFY. Additionally, Mahoney is in the new film 99 HOMES which hits theaters in September. The actress is also known for her roles in films such as BIG MAMA'S HOUSE 2, BAREFOOT, and FRANKENSTEIN.