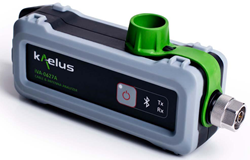 This product is all about effective workflow.
Centennial, Colorado (PRWEB) September 30, 2015
Kaelus announced today that it has received approval for its new iVA Cable & Antenna Analyzer for sweep testing certification by the two leading wireless carriers in the US. The iVA was evaluated and approved for use by carrier employees and contractors for all types of on-site sweep testing, including swept VSWR, return loss, and distance-to-fault in the RF path.
The low cost, handheld iVA Cable & Antenna Analyzer only weighs 1.5 lbs (680 g), making it ideal for tower top environments. It can connect directly to devices under test, eliminating the need for a phase-stable cable, and can be managed by laptop or tablet via Bluetooth from the ground, if so desired. The iVA also enables geo-tagging and photos to be easily included in site testing reports for increased efficiency.
"The iVA allows you to get up the tower, quickly make your measurements, and get on to the next site," said Rick Hartman, Kaelus President, Test & Measurement, "This product is all about effective workflow. Your measurements can be instantly placed in your reports, and emailed to the customer. There's no need for post-site processing, saving you time and money."
For more information on the iVA Cable & Antenna Analyzer visit http://www.kaelus.com or for a quote please contact Kaelus at 1-303-768-8080.
####
About Kaelus
Kaelus, a Smiths Microwave company, is a recognized leader in test and measurement instruments, cell-site filters, combiners and tower mounted amplifiers. Kaelus was formed in 2010 with the combination of four Smiths entities with a legacy of excellence in filtering technology. Kaelus continues to provide the telecommunications industry with high-quality, low PIM products that enable effective global communication. For more information, visit http://www.kaelus.com .
About Smiths Microwave
Smiths Microwave is a leading provider of components, sub-assemblies, antennas and system solutions that test, filter, protect, and process high-frequency signals primarily for defense, aerospace, test and measurement, and wireless telecommunications applications.
As a family of brands, TECOM, TRAK, LORCH, Millitech, EMC Technology, Florida RF Labs, TRAK Limited, Kaelus, PolyPhaser, Transtector Systems, and RadioWaves provide exacting solutions for antenna systems for the military and commercial aerospace, transceivers, frequency sources, timing systems, component applications and a wide range of innovative RF, microwave and surge protection solutions for the wireless telecommunications sector.
Alongside Smiths Connectors and Smiths Power, Smiths Microwave is part of the Smiths Interconnect divisions of Smiths Group, http://www.smiths.com, a global leader in applying advanced technologies for markets in threat and contraband detection, energy, medical devices, communications, and engineered components. Smiths Group employs more than 23,500 people in over 50 countries.