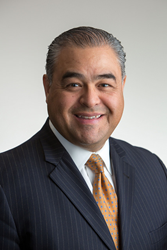 I am honored to lead this prestigious society . . .
Chicago, IL (PRWEB) October 02, 2015
Cogan and Power, P.C. is pleased to announce that Chicago personal injury lawyer Miguel A. Ruiz assumed the presidency of the Society of Trial Lawyers on September 15, 2015. He succeeds Chicago personal injury lawyer Joseph A. Balesteri. Ruiz is the first Latino attorney to be elected to this prestigious position since the society's founding in 1934.
When asked to comment on his new position and the responsibilities of the post, Miguel remarked, "I am honored to lead this prestigious society comprised of very accomplished and distinguished trial attorneys."
The Society of Trial Lawyers holds several events and meetings throughout the year. Members must be attorneys in good standing and be nominated by at least three members of the society, two of whom must not be affiliated with the prospective member in the practice of law.
He is an active member within the legal community and an active member of the Hispanic Lawyers Association of Illinois. During his career, Miguel has served as chair of the City of Chicago's Board of Ethics and is a member of the Illinois and Wisconsin State Bar Associations. These positions have given him the skills and leadership qualities that are the hallmarks of the Society of Trial Lawyers.
The Society of Trial Lawyers was founded with the purpose of fostering and encouraging a spirit of loyalty and fraternity within the legal profession. The society encourages members to maintain the highest ethical standards in the performance of the profession and to promote strong relationships between trial lawyers and other members of the judiciary community.
In February of 2015, Miguel joined Cogan & Power, P.C. After earning his undergraduate degree from the University of Illinois at Chicago, he received his Juris Doctor from the the University of Wisconsin School of Law in 1992. With a distinguished career spanning decades, he is a skilled litigator with considerable experience in wrongful death and catastrophic injury cases.
About Cogan & Power, P.C.
Miguel Ruiz joined Cogan & Power, P.C. as a partner in 2015. Cogan & Power, P.C., provides personalized, aggressive representation to victims of personal injury and medical malpractice. With over 100 years of combined legal experience, the lawyers of Cogan & Power have a history of achieving record-breaking results for their clients. For more information about Cogan & Power, P.C., please visit http://coganpower.com.