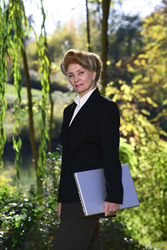 Grants Pass, OR (PRWEB) September 30, 2015
Logically, after riding in or driving a car all day doing nothing, one should feel energized and ready to go. Why then are road trips so exhausting? The culprit, according fresh water advocate Sharon Kleyne, host of the Sharon Kleyne Hour® Power of Water® radio show, is not fatigue but a condition she calls "automotive dry eye" caused by prolonged exposure to car heating and air conditioning. The good news is that the condition is easily preventable.
Kleyne will discuss driver fatigue, automotive dry eye, the seasonal effects of weather on vision, and dry eye prevention on the Sharon Kleyne Hour™ Power of Water® radio show of October 5, 2015.
The globally syndicated broadcast is heard weekly on VoiceAmerica (Health and Wellness and Variety channels) and Apple iTunes. The education oriented show is sponsored by Bio-Logic Aqua® Research – Water Life Science®, founded by Kleyne and specializing in fresh water, the atmosphere, body surface evaporation and dehydration. The Research Center's signature product is Nature's Tears® EyeMist® for dry eye.
Car and truck trip fatigue, according to Kleyne, may result from the loss of natural water content in the eyes. Forced-air heating and cooling usually do two things that can cause skin and eyes to lose water content: (1) They create wind. (2) They lower the humidity inside the car (especially air conditioning). Wind and low humidity accelerate the rate at which liquid water evaporates from the eye's liquid surface, called the "tear film." The surface of the eyes are 99 percent water. The result of accelerated tear film evaporation is tear film dehydration or dry eye.
Factors causing automotive dry eye, Kleyne notes, can affect drivers and passengers in cars, trucks, airliners and trains.
On road trips, the driver also must stay focused and stare at the road for hours at a time. This can substantially lower the reflexive eyelid blink rate, says Kleyne, causing the water at the eyes' surface to evaporate even more rapidly. Lack of air exchange with the outside can also dehydrate the eyes.
When a driver suddenly can't keep their eyes open, says Kleyne, the eyes are probably reacting to surface dehydration, not lack of sleep. Glare, road grime, gasoline fumes, recirculated air and rapid temperature and humidity changes from getting in and out also contribute.
Sunny autumn days may be the worst time of year for automotive dry eye, Kleyne notes. While wetter weather increases the atmosphere's relative humidity, the cooler air reduces the absolute humidity because cool air can't hold as much water vapor as warmer air. In the Western United States, September is the driest month of the year in terms of river levels, water supply, ground saturation and water vapor given off by live vegetation.
Kleyne's prevention suggestions: Avoid using the car's heater or air conditioner and try to keep the interior temperature and humidity similar to the outside. When using air conditioning and heating, avoid aiming the vent directly at the face. Stop frequently to rest and refresh the eyes. Get out of the car slowly and take a few deep breaths to acclimate to the sudden temperature and humidity change. Wear sunglasses to avoid glare.
To assure fresh air inside the car, says Kleyne, open the windows every half-hour. The old triangular coach windows were ideal for air exchange. Avoid food or drinks containing sugar and sweeteners, all of which are dehydrating.
Drink lots of water before, during and after the trip. Kleyne advocates at least eight glasses per day in addition to all other fluids. Water helps maintain hydration and flushes out toxins. If that means more restroom stops, remember that stopping rests the eyes and. allows exercise. Drinking warm water reduces restroom urges.
Kleyne also recommends misting frequently with a personal portable hand-held skin and eye humidifying device to supplement eye and skin moisture. Nature's Tears® EyeMist®, a humidify eye mist from Kleyne's Bio-Logic Aqua® Research, makes an excellent glove box addition.
©2015 Bio-Logic Aqua Research – Water Life Science®. All rights reserved.