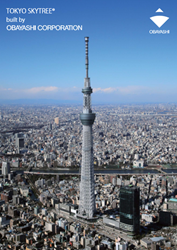 Obayashi has chosen MetaMoJi as a technology partner and is using MetaMoJi's Yacho digital field book app to streamline and monitor its global field operations and reporting functions.
London, England (PRWEB) October 02, 2015
MetaMoJi, a leading provider of productivity and industry efficiency applications, has announced that Japanese prime contracting and engineering leader Obayashi Corporation will use MetaMoJi's Yacho field application on construction projects worldwide.
Obayashi, one of the world's largest and most innovative construction contractors, has 84 subsidiaries and 28 affiliated companies in Japan, the Middle East, Asia, Oceania and North America.
Introducing Yacho
The Yacho digital field book app will be available in 2015 for all areas of construction and civil engineering and in early 2016 for other global industries that need to capture structured forms and freehand information for actioning, analysis, reporting and archiving.
Yacho easily brings key productivity functions found across multiple industrial and field applications into a single mobile app. The Yacho development team was led by legendary Japanese software designers Kazunori and Hatsuko Ukigawa, founders of MetaMoJi, who were inspired by Japan's unique Gemba Kaizen concept of continuously finding improvement where the work actually takes place.
Mobile technology partner
Said Ben Walshaw, MetaMoJi EMEA Sales Head, "Obayashi is known and admired worldwide as an industry leader in its adoption of new construction and process-efficiency technologies. We are pleased that Obayashi has chosen MetaMoJi as a technology partner and is using MetaMoJi's Yacho digital field book app to streamline and monitor its global field operations and reporting functions."
Walshaw also announced that the Yacho application will be first introduced and demonstrated for Apple iPad users in the European construction industry on October 6 at the UK Construction Week's Build Show conference in Birmingham, England.
Apple iPad field efficiency
Said Hideyuki Horiuchi, manager of Obayashi's global Information Communication Technology (ICT) team: "Our engineers began using the Apple iPad in the field in 2012 and we now have nearly 6,000 iPads in use worldwide. We discovered early on that most of our field engineers were already using MetaMoJi's powerful Note application on their mobile devices. Yacho is the obvious next step in making the most effective use our iPads in the field, organizing and delivering in a mobile technology the demanding digital record keeping and project monitoring tasks that a major modern construction firm requires to meet ever-increasing community and industry engineering standards."
Added Masashi Suzuki, assistant manager of production technology at Obayashi's Technical Research Institute: "Our construction professionals now rely on mobile technology every day in the field. But we have lacked a single application that exploits this technology leap in ways that effectively and in real time capture and coordinate the seamless transfer of daily site reports, project estimates, daily time sheets, and even maintenance logs between construction site and headquarters. Yacho is the answer."
Achievement and excellence
Said MetaMoJi's Walshaw: "Obayashi is an extraordinary technology partner for us with a consistent record of innovation and technical excellence across the global construction industry. Obayashi was prime contractor for many of Japan's major contemporary urban landmarks, including the Kyoto Station Building and Tokyo Broadcasting System (TBS) Center in Tokyo, as well as the world's second tallest structure: the 2,080-foot Tokyo Skytree, completed in February 2012. In February 2012 Obayashi announced plans to build a space elevator by 2050."
Obayashi's Technical Research Institute in Tokyo, Japan, was recently awarded Japan's highest rated LEED Platinum certification for their Techno Station facility under the USGBC LEED for Existing Buildings and Operations Maintenance (EBOM) rating system. Obayashi's group company Webcor LP is repeatedly ranked as the top green building contractor in the U.S. in an annual survey done by Engineering News Record.
Obayashi's group company Webcor LP which is based in San Francisco, has erected some of the most distinctive buildings in the U.S. urban landscape, under contract to some of that country's most prominent and recognizable corporate brands. Among them are Disney's Lucasfilm division, Oracle Corporation, and Electronic Arts in California's, all in Silicon Valley, and new cutting-edge luxury W resorts in San Diego and Hollywood, built for the Starwood hotel chain.
Obayashi also owns the 120-year-old E. W. Howell construction engineering firm in New York City which works with several high-profile art museum and university clients on the U.S. East Coast. Howell's client roster includes the Brooklyn Museum of Art, Columbia University, Cornell University, Hewlett Packard, Long Island University, Manhattanville College, New York University, Rutgers University, the Pratt Institute and Cooper Hewitt with is America's leading national museum of industrial design and the decorative arts.
About MetaMoJi Corporation
MetaMoJi is a premier application developer offering an advanced suite of products designed to be used by consumers, business and education. MetaMoJi is committed to producing applications that help people perform tasks more efficiently, allow organizations to improve their processes and deliver a consistent user experience across multiple mobile devices and platforms. Recent awards include a winning place at the 2015 International Business Awards, two Envisioneering awards at CES 2014, and Tabby and Appy awards.
Contact
Ben Walshaw
EMEA Sales Director
+44 7595254991
ben(at)metamoji(dot)com
http://www.metamoji.com