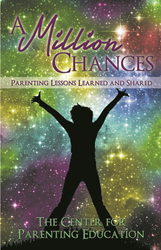 Children turn out best with 'good enough' mothers (and fathers) who do not strive for perfection…
(PRWEB) September 30, 2015
A Million Chances: Parenting Lessons Learned and Shared addresses the situations that parents commonly mishandle when it comes to instilling the value of discipline, responsibility, confidence, and other positive traits in their children. While it is natural for parents to want the best for their kids, conflicts start to arise when parents fail to recognize their limits and understand what their children actually needs. In their desire to be the perfect moms and dads, parents either become too permissive, keeping their kids happy by giving in to what they want, or too controlling to the point where the children get robbed of their own freedom to make their own choices and learn by themselves.
Written by parents from The Center for Parenting Education, A Million of Chances shares how parents should learn to balance the scale between being permissive and authoritative. This way, a parent will learn how to guide instead of control or just observe without intervening, as well as carry out discipline and punishments without unintentionally harming the children emotionally and psychologically. The book also teaches how parents should never be afraid or ashamed to admit their mistakes, and instead show their children how to learn from wrong decisions.
In her contribution to the book, mother Deb Cohen states that perfectly imperfect parents are also the best ones. She says, "Children turn out best with 'good enough' mothers (and fathers) who do not strive for perfection, but rather provide an 'adequate environment.'" Parental excellence is not defined by just providing the children with what is "good" for them and protecting them from the "bad." For children to adapt to life and learn its lessons, they need to experience both good and bad, and it's the parents' responsibility to help their children cherish the positive ones and cope with negativities with lessons they will take with them as they grow up.
A Million of Chances by The Center for Parenting Education is published by Infinity Publishing and is now available for purchase in both print and e-book versions.
About The Center for Parenting Education.
The Center for Parenting Education is a non-profit organization founded in 1997. It supports and educates parents to help them create a home environment and a relationship with their children in which the children will thrive through the approach of encouraging parents to try their best and that it is never too late to grow and change.
Title: A Million Chances: Parenting Lessons Learned and Shared
Author: The Center for Parenting Education
Genre: Self-Help/Parenting
ISBN: 978-1-4958-0297-3
eISBN: 978-1-4958-0298-0
Pages: 184
Price: Paperback $13.95
eBook $ 6.95
Publication Date: July 15, 2015
Publisher: Infinity Publishing