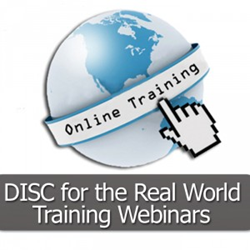 Boardman, Ohio (PRWEB) October 02, 2015
PeopleKeys today announced their plans to air two new webinars in October:

How to Be a Better Encourager, Friday, October 23rd at 1pm EST
Building More Effective Teams, Thursday, October 29th at 1pm EST
Each webinar will feature strategies for using DISC behavioral analysis as a means of understanding the connection between personality and communication.
"How to Be a Better Encourager" will discuss how an understanding of personality can be used to better communicate, motivate, and support others. Enrollment is free, providing a risk-free opportunity to learn more about the applications of DISC and behavioral analysis.
"Building More Effective Teams" will highlight DISC techniques for understanding the strategic process of team building. The webinar will explore strategies for creating the strongest possible teams using the most beneficial blend of personalities. The goal of the webinar is to build an understanding of how to improve morale, increase productivity, and accomplish common goals in teams. Enrollment in the live webinar is $49, and includes a copy of the PowerPoint used in the training.
PeopleKeys Master Trainer John Schindell will be the instructor for both webinars, bringing his trademark blend of humor, technical expertise, and real-world experience to the trainings. For those unable to attend the live classes, all webinars will be available on-demand the day after original airing.
The free "How to Be a Better Encourager" webinar will be presented as a part of PeopleKeys' new "How to be a Better…" series, which includes monthly installments of live 30-minute DISC training sessions on a variety of personal growth and self-improvement topics. The 60-minute "Building Effective Teams" webinar will be presented as a part of PeopleKeys' popular DISC for the Real World series. For more information about PeopleKeys, DISC, their personality testing and behavioral analysis tools, or to register for their October DISC webinars, visit peoplekeys.com.
About PeopleKeys
PeopleKeys has been providing tools to measure the connection between personality and human behavior for over 30 years. PeopleKeys believes that an understanding of human behavior can be used to improve productivity, reduce stress, increase self-awareness, and open the lines of communication. Their DISC personality tests and behavioral analysis tools have been translated into over a dozen different languages, and are sold around the world. For more information about PeopleKeys and their DISC solutions, please contact Marketing Manager Kaitlyn Miller at 330-599-5580 x113.
About DISC
DISC is a personality profiling system which serves as a method for understanding behavior, temperament, and personality. With behavioral analysis tools such as the DISC Profile, it is possible to gain a comprehensive overview of the way that individuals think, act, and interact. Dr. William Moulton Marston, a contemporary of Carl Jung, developed the DISC Personality Profile after studying the personality traits, behavioral patterns, and instinctual reactions of thousands of individuals. DISC is the most widely used profiling tool of its kind, and is supported by decades of validation and reliability studies.