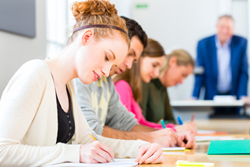 (PRWEB) October 01, 2015
With college-age offspring now off to school and settling into new routines, it's time to think about one more thing they'll need for their future – a good credit history. Length of credit history makes a big impact – about 15% of a person's total credit score, according to FICO, the analytics software used most often to calculate credit scores.(1)
Using a credit card is typically the easiest way to build credit. Making your college student an authorized user on your credit card is a great start, but gives them access to your full credit line. This can be a mixed blessing: your college student will be able to cover day-to-day needs or emergency expenses, but you have limited control over the overall amount of credit line that they might use for other purchases.
A secured credit card can take care of both concerns – building credit, while controlling the purchase behavior of your young adult. A security deposit (to "secure" the card) determines, and limits, the credit card line. Otherwise the card functions the same as any credit card, with the cardholder responsible for paying off purchases. The bank issuing the card reports payments to consumer credit bureaus, which is what helps to build the cardholder's credit history.
Students can apply for secured credit cards, such as the OpenSky® Secured Visa® credit card, as long as they are at least 18 years old and meet the minimum debt-to-income requirements. For anyone under 21 who can't show the ability to make payments, someone older has to co-sign and be responsible for meeting the financial requirements of the account.
Parents can co-sign for a secured credit card using their own income to help their child get a card. Being a co-signer has its benefits as the parent has access to the card's online account, giving parents the ability to view card transactions and help guide their young adults through money management techniques to help them build good credit – such as making payments on time each month and paying off or paying down the balance owed.
"The beauty of a secured card is that it can help those new to credit build their credit history starting in their college years," says Nick Bryan, president of OpenSky, a division of Capital Bank, N.A. "Building credit history earlier in life can make it easier to get loans, with better credit terms, for later-in-life purchases such as auto loans and home loans."
By providing a safe and secure way for young adults to build their own credit history, parents are giving a life lesson that will last through the college years and beyond.
About OpenSky
OpenSky is a business line of Capital Bank, N.A. that focuses on delivering credit building tools and resources to help consumers establish or re-build their credit. OpenSky credit card products are designed to be easy to get, easy to use and offer variable credit lines, allowing consumers with any financial needs to build a solid credit history. The premiere product, the OpenSky® Secured Visa® Credit Card, has been recognized by Credit.Net as one of the best credit cards for 2014 that build credit fast. With more than 50,000 cardholders and counting, OpenSky is committed to helping consumers meet their financial goals through the power of strong credit and credit knowledge.
For more information visit http://www.openskycc.com
About Capital Bank
Capital Bank, N.A., is a leading private bank in the Washington, D.C. metropolitan area that offers a range of services encompassing cash management, commercial lending, consumer credit and residential mortgage/Veterans Administration mortgage loans. Capital Bank's core commercial banking and lending business includes two rankings by the U.S. Small Business Administration (SBA), ranked number two among community lenders and in the top ten among all lenders in the Washington Metropolitan District for loan volume for Fiscal Year 2014. With double-digit asset growth over the past three years, Capital Bank has more than $600 million in assets and is well positioned to fulfill its culture of collaborative partnerships and solutions for area businesses and consumers nationwide. For more information, visit http://www.capitalbankmd.com. Member FDIC. An Equal Housing Lender.
CAPITAL BANK, PARTNERS IN YOUR VISION
Sources:
1. MyFico.com: http://www.myfico.com/crediteducation/whatsinyourscore.aspx