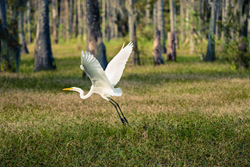 LAKE CHARLES, La. (PRWEB) September 30, 2015
Birdwatching opportunities increase as the weather turns cooler, and Southwest Louisiana is a good place to catch sight of North American land birds as they head south to warmer climates on their annual migration. Here are some tips to ensure a great experience when birding in Southwest Louisiana courtesy of the Lake Charles/Southwest Louisiana Convention and Visitors Bureau.
In a typical year, more than 400 different species can be spotted in this area, a true birders' paradise. The area is located along two major migration routes for birds heading to and from Canada: the Central and the Mississippi Flyways. Among the 400 species observed during the fall and winter migration months are commonly recognized pelicans, herons, egrets, ducks, geese, hawks, gulls, hummingbirds, cardinals and sparrows, along with lesser-known (but colorfully named) birds like the solitary sandpiper, the greater shearwater, the vermilion flycatcher, the Nashville warbler, the tropical parula and the flamingo-like roseate spoonbill.
The region's flat ground and open water makes it easy to spot and photograph the birds. Good birdwatching spots include The Peveto Woods Sanctuary in Cameron Parish, the Rockefeller State Wildlife Refuge, Sabine National Wildlife Refuge's Blue Goose Trail and Wetland Walkway, and Cameron Prairie National Wildlife Refuge's Pintail Wildlife Drive. The Baton Rouge Audubon Society has preserved the unique habitat of Peveto Woods Sanctuary and established the first chenier sanctuary for migratory birds.
Another birding hotspot is Grosse Savanne Eco-Tours, which offers virtually unlimited access to a multitude of various ecotypes including both fresh and salt water marshes, cypress swamps, native coastal prairies and agricultural lands with the perfect environment for birding and wildlife/nature viewing. The tour company offer tours in their rookeries and throughout their 50,000 acres of privately managed property.
It doesn't matter what time of year people visit, one will find birds there. However, the fall migration, which begins in October, brings in a number of migratory waterfowl. Plenty of waterfowl and wading birds can be seen along the Creole Nature Trail All-American Road, also known as Louisiana's Outback. The more than 180-mile road loops from Sulphur to Lake Charles.
No longer a best-kept secret, the trail has been named among the Top 40 Birding Spots in North America by Wildbird Magazine and has been proclaimed as one of the Top 10 Birding Destinations in the country. Southwest Louisiana's Gulf Coast Birding Club has an active membership that takes field trips throughout the year.
For more information about the Creole Nature Trail, visit http://www.creolenaturetrail.org. For help in planning a trip or for a free Southwest Louisiana Birding Guide, visit http://www.visitlakecharles.org or call (800) 456-7952.
###