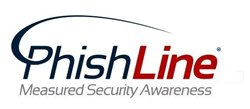 "PhishLine was the only tool that delivered attack simulation across all social-engineering vectors and provided the data and robust reporting."
Milwaukee, WI (PRWEB) October 01, 2015
PhishLine and Security Innovation today announced a formal relationship to provide enterprise clients with a premier training and testing platform. This venture will begin as a joint reseller relationship with accelerated plans to integrate both platforms providing a unified solution available to both organizations' customer base.
"Security Innovation is a recognized leader for comprehensive security awareness training," said Mark Chapman, PhishLine President & CEO. "Their focus on providing a thorough end-to-end training catalogue from general security awareness through application security and code development allows PhishLine clients to increase user awareness and reduce risk."
Security Innovation clients will be able to license the PhishLine social-engineering platform to test organizational susceptibility to real-world attacks like phishing and provide immersive training to increase end-user awareness. PhishLine clients will be able to utilize Security Innovation's robust catalogue of training videos, games, posters, and newsletters to reduce the likelihood of a user falling victim to a social-engineering attack.
"Security Innovation has long been trusted by large enterprise and government customers to provide core training to build the foundational skills that reduce risk. Our customers are very demanding and we needed an enterprise-class social-engineering platform that allows customers to go beyond simple phishing simulation," said Ed Adams, Security Innovation President and CEO. "We evaluated all the solutions on the market today. PhishLine was the only tool that delivered attack simulation across all social-engineering vectors and provided the data and robust reporting required by our enterprise customers."
About PhishLine
Headquartered in Milwaukee, WI with offices in Chicago, IL, San Francisco, CA and Cincinnati, OH, PhishLine specializes in helping Information Security Professionals meet and overcome the increasing challenges associated with social engineering and phishing threats. PhishLine provides a powerful blend of risk-based objectivity and robust metrics and reporting to human layer security efforts. More information about PhishLine can be found at http://www.phishline.com or Twitter @PhishLine.
About Security Innovation
A software security pioneer since 2002, Security Innovation is dedicated to protecting sensitive data in the world's most challenging environments – whether on embedded systems, desktops, web applications, mobile devices, or in the cloud. Recognizing that software applications no longer exist in isolation, our clients are better prepared to anticipate, navigate and reduce software security risk regardless of technology or system complexity. There are more than a million licenses of Security Innovation's training products in use today and our embedded security products ship on tens of millions of systems each year. The company is privately held and is headquartered in Wilmington, MA USA. Visit the company at http://www.securityinnovation.com or follow on Twitter @SecInnovation.