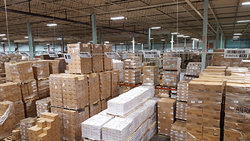 "Energy Source is proud to support WNA in its energy conservation efforts over a short period of time without disruption to its manufacturing schedules."
Providence, Rhode Island (PRWEB) October 05, 2015
Energy Source, a division of Revolution Lighting Technologies (NASDAQ:RVLT), announced today that it has completed lighting retrofit of WNA, a leading manufacturer of single-use tableware, based on Chelmsford, MA. This energy conservation program, in partnership with Energy Source, will reduce energy use by one million kilowatt hours to save $110,000 annually. This was combined with Energy Source's designation as a NationalGrid Project Expeditor to receive $400,000 of incentives, to reduce the project payback of 1 year.
Businesses seeking to reduce fixed costs are replacing antiquated lighting, including incandescent and fluorescent lighting with LED (Light Emitting Diodes), reducing lighting energy use up to 90%, making it the smartest lighting choice for energy conservation. WNA, who partnered with Energy Source of Providence Rhode Island, converted existing High Intensity Fluorescent lighting to LED throughout two of its facilities, totaling 400,000 square feet, addressing both interior as well as exterior egress and parking areas was completed in four weeks without disruption to production. Energy Source's technology team combined the new LED lighting with intelligent controls to allow the system to be programmed and controlled remotely.
"Utilizing LED is a natural choice to reduce overall project payback through superior efficiency, combined with a lamp life 2-3 times longer than other lighting, helps reduce both energy and long term maintenance costs," says Gabriel Andreson, energy conservation consultant, Energy Source. "LED's offer better quality light, are fully dimmable and require zero warm-up time, which means they can be tied into control software, allowing the operator to adjust light levels based on occupancy and task. Installed sensors can even automatically reduce or increase light output based on available ambient light, an approach known as "Daylight Harvesting".
"Energy Source is proud to support WNA in its energy conservation efforts over a short period of time without disruption to its manufacturing schedules." says Jim Howard, Director of Operations, Energy Source. "We strive for a seamless operation. Our rigorous planning and on-site management ensures that our projects are executed with the absolute minimum interruption to the day-to-day operations of our client's business."
About WNA, Inc. WNA, Inc. is the US foodservice division of The Waddington Group, a subsidiary of Jarden Corporation. WNA is the leading supplier of upscale single use products sold under a portfolio of brands that includes Masterpiece®, Reflections®, and Classicware®. Additional information can be found at http://www.wna.biz.
About Jarden Corporation  Jarden Corporation is a well-diversified, global consumer products company with a portfolio of over 120 trusted, quality brands. Jarden's record of strong financial performance and organic growth is supported by a focused operating culture coupled with value enhancing acquisitions and shareholder focused capital allocation. Jarden operates in three primary business segments through a number of well recognized brands, including: Branded Consumables: Ball®, Bee®, Bernardin®, Bicycle®, Billy Boy®, Crawford®, Diamond®, Envirocooler®, Fiona®, First Alert®, First Essentials®, Hoyle®, Kerr®, Lehigh®, Lifoam®, Lillo®, Loew Cornell®, Mapa®, Millefiori®, NUK®, Pine Mountain®, Quickie®, Spontex®, Tigex®, Yankee Candle® and YOU®; Outdoor Solutions: Abu Garcia®, AeroBed®, Berkley®, Campingaz® and Coleman®, Dalbello®, ExOfficio®, Fenwick®, Greys®, Gulp!®, Hardy®, Invicta®, K2®, Marker®, Marmot®, Mitchell®, PENN®, Rawlings®, Shakespeare®, Squadra®, Stearns®, Stren®, Trilene®, Völkl® and Zoot®; and Consumer Solutions: Bionaire®, Breville®, Cadence®, Crock-Pot®, FoodSaver®, Health o meter®, Holmes®, Mr. Coffee®, Oster®, Patton®, Rainbow®, Rival®, Seal-a-Meal®, Sunbeam®, VillaWare® and White Mountain®.  Headquartered in Florida, Jarden ranks #348 on the Fortune 500 and has over 30,000 employees worldwide.  For further information about Jarden, please visit http://jarden.com.