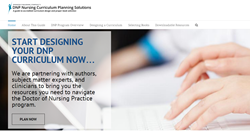 Our guide provides an easy-to-use, one-stop solution for instructors, from learning about the DNP program to ordering books for their courses.
New York, NY (PRWEB) September 30, 2015
Springer Publishing Company, a leading publisher of nursing books, ebooks, apps, and digital products, has launched a comprehensive new online guide for instructors developing curricula for the rapidly expanding Doctor of Nursing Practice (DNP) program. The guide, DNP Nursing Curriculum Planning Solutions, available at http://www.dnpnursingsolutions.com, aids readers in designing a curriculum and in selecting books that meet the DNP guidelines.
Since its inception in 2004 in a white paper published by the American Association of Colleges of Nursing (AACN), the DNP doctorate has quickly grown to 264 programs around the country, with over 22,000 students. DNP curricula are designed around eight essential elements and competencies, overhauling nursing education to address the increasingly complex needs of a modern healthcare system.
Said Margaret Zuccarini, Publisher, Nursing at Springer Publishing: "As the DNP program continues to grow, more and more institutions are seeking to adopt it as part of their nursing programs. But for many nursing instructors, designing a curriculum to match the DNP's demanding requirements remains a challenging process. Our guide meets this need by providing an easy-to-use, one-stop solution for instructors, from learning about the DNP program to ordering books for their courses."
Among the features to be found on DNP Nursing Curriculum Planning Solutions:

DNP Program Overview: Explore the history and eight Essentials of the DNP program
Design a DNP Curriculum: Learn the key considerations to keep in mind when designing a curriculum, see examples of how DNP curricula can be tailored to specific subject areas, and find out how to design a course around the essentials of the DNP program
Select and Order Books: Choose books based on the Essential Elements of the DNP program, program type, and course subject; then order them using a simple and efficient process
Download Resources for DNP Development: View infographics, browse the complete catalog of Springer Publishing's DNP-related titles, and download a printable DNP Nursing Curriculum Planning Solutions guide that includes all of the information on the website.
About Springer Publishing Company
A pioneer in health care and social science publishing for 65 years, Springer Publishing Company is known as an innovative publisher in the fields of nursing, social work, psychology, counseling, public health, health administration, gerontology, and, under the Demos Medical imprint, clinical medicine including neurology, physical medicine and rehabilitation, oncology, pathology, and cardiology. The company has won numerous awards, including the American Library Association (ALA) Choice Awards, the Association of American Publishers (AAP) PROSE Awards, and the American Journal of Nursing (AJN) Book of the Year Awards, and publishes 150 quality titles annually, all available as eBooks, in addition to 21 journals, mobile apps, and digital products. Springer Publishing Company, a privately held company of The Mannheim Trust, is passionate about providing the best professional books, textbooks, guides, and reference works to professionals, instructors, and students. For more information, visit http://www.springerpub.com.