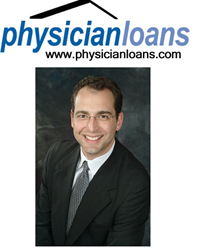 While this new rule adversely affects timing on all mortgage transactions in the U.S., the impact will be more acute for young doctors.
Columbus, OH (PRWEB) October 01, 2015
PhysicianLoans – the premier provider of home mortgage loans for medical professionals is cautioning its customer base of physicians, specifically graduating medical students and current residents, to plan extra time into the process of buying a home after October 3. That is when the "Know Before You Owe" mortgage initiative, also known as TILA-RESPA Integrated Disclosure (TRID) rule, is put into place by the Consumer Financial Protection Bureau (CFPB).
According to President of Physician Loans Tal Frank, the mortgage industry will be in great flux while the industry adjusts to the new stringent compliance procedures. The main impact on the industry will be that closings will take longer and pinning down an exact closing date early in the process will become more difficult. Mitigating risks in scheduling a housing transition, move-in date and vacations too tightly will remain a concern for the next year while the industry experiences a temporary upheaval.
Frank states, "While this new rule adversely affects timing on all mortgage transactions in the U.S., the impact will be more acute for young doctors. Because graduating medical students and residents have a very small window during which to close on their home loan, and the fact that many times the closing is in a different city or state as they relocate for work, the anticipated delays in closing will make it more difficult to schedule around graduation, vacation and work schedules". Frank adds that "Even the National Association of REALTORS® is suggesting its members add at least fifteen days to the purchase contracts to accommodate the TRID changes. Bottom line - Every doctor buying a home in the next three to six months should start early and plan flexibility into their schedule."
Contributing to the challenge doctors will face is that according to the CFPB, the buyer and seller must sign on the same day making mail away closings, which are commonly used by relocating doctors, difficult to arrange and sometimes not possible.
The mortgage industry change developed out of the Dodd-Frank Wall Street Reform and Consumer Protection Act signed by President Obama the summer of 2010. This piece of legislation that ushered in TRID has resulted in the largest change in federal mortgage disclosure requirements in more than three decades.
The new TRID will replace four existing disclosures that will require mortgage companies to provide the following:

Loan Estimate -- must be delivered or placed in the mail no more than three days after receiving the consumer's completed mortgage application
Closing Disclosure -- provided at least three days prior to completion of the transaction
RE/MAX Boston Real Estate Agent Karen Landry says, "There is some apprehension of the unknown, so using the right lender is critical. A buyer's agent has responsibility for ensuring buyers are using credible lenders, such as Physician Loans to communicate all aspects of the physician home loan in a timely manner." She adds that it's also important to prepare buyers for potential delays and have a back up plan should the need arise.
Due to these upcoming changes, Physician Loans is encouraging all prospective homebuyers in the medical field to start the process earlier than normal and to discuss the details of TRID with the chosen loan officer and Real Estate agent.
About PhysicianLoans
Since 1993, PhysicianLoans, a division of Tower Mortgage Corporation, has focused exclusively on providing home mortgage loans to medical professionals. Located in Columbus, Ohio, PhysicianLoans is known for its unique, flagship product The Doctor Loan, which is offered to medical doctors, dentists and veterinarians, many who find themselves laden with heavy student loan debt that often prohibits obtaining a conventional mortgage loan. For more information about PhysicianLoans, please visit http://www.physicianloans.com.