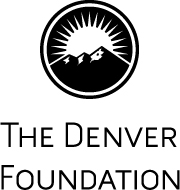 We want to hear from the community: How can we all strengthen the community over the next 90 years?
Denver, CO (PRWEB) September 30, 2015
The Denver Foundation, Colorado's oldest and largest community foundation, turns 90 on November 30. To celebrate this milestone, the Foundation invites the public to participate in "Our Future in the Making," an online community storytelling contest that highlights bold and creative visions for Denver's future.
"Our Future in the Making" launches Monday, October 5 and runs through Monday, November 30. Each week, the public is invited to submit stories, images, and videos via Facebook, Twitter, Instagram, and a mobile-friendly application on The Denver Foundation's website. All entries will be displayed on The Denver Foundation's website. The contest hashtag is #DenverNext90.
"The Denver Foundation has worked to make a better future for Denver since 1925," says Angelle Fouther, director of communications for The Denver Foundation. "We could not provide opportunities and improve the quality of life of so many without the partnership of thousands of generous community members. With 'Our Future in the Making,' we want to hear from those community members, as well as people we don't yet know: How can we all strengthen the community over the next 90 years?"
Contest themes vary by week. All entries should respond to the question: How are you improving, or how do you plan to improve, the quality of life for residents of Metro Denver in this area? Three weekly winners will be chosen by a panel of four communications experts and community leaders; winners will select prizes from The Women's Bean Project online store, http://www.womensbeanproject.com.
Weekly themes:
October 5: Education/Youth Development
October 12: Arts/Culture
October 19: Inclusiveness/Equity in Giving & Philanthropy
October 26: Community Leadership
November 2: Homelessness
November 7: Job Creation/Social Entrepreneurship
November 16: Transportation/Environment
November 23: Individuals/Family/Corporate Giving & Philanthropy
Complete contest rules are available via http://www.denverfoundation.org/About/Contests
About The Denver Foundation
The Denver Foundation is a community foundation that inspires people and mobilizes resources to improve life in Metro Denver. In 2014, the Foundation and its donors awarded more than $67 million in grants. The Denver Foundation has three roles: stewarding an endowment to meet current and future needs for Metro Denver, working with community leaders to address the core challenges that face the community, and managing close to 1,000 charitable funds on behalf of individuals, families, and businesses. For more information, visit http://www.denverfoundation.org.