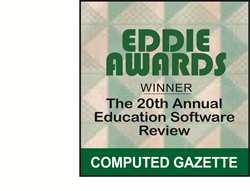 Receiving this award is strong affirmation that Think Through Math makes a significant positive impact on student math achievement.
Pittsburgh, Pennsylvania (PRWEB) September 30, 2015
Think Through Learning, creators of Think Through Math(TTM), a web-based instructional system for grades 3 and above, announced today that it has been named a winner in the 20th Annual Education Software Review "EDDIE" Awards. Recognized as the best "Multi-level Online Math Learning System," this is the second consecutive EDDIE Award for Think Through Math in that category and adds to its growing list of awards for instructional excellence and program efficacy.
Presented by The ComputED Gazette, the EDDIE Awards recognize innovative and content-rich programs and websites that augment classroom curriculum and improve teacher productivity, providing parents and teachers with the technology to foster educational excellence. Selected from hundreds of worldwide nominations, selection criteria for the awards include academic content, potential for broad classroom use, technical merit, subject approach and management system.
Think Through Math combines rigorous adaptive instruction, a powerful motivation system, and live, on-demand tutoring from state-certified US math teachers who tutor struggling TTM students in real-time at the point when they need help.
"Receiving this award for the second year in a row is strong affirmation that Think Through Math makes a significant positive impact on student math achievement," said Traci Burgess, COO, Think Through Learning. "The EDDIE Award recognizes our commitment to continuously improve our system to most effectively support the unique learning needs of the millions of students we serve."
With nearly three million students in more than 180,000 classrooms using Think Through Math, TTM is the fastest growing supplemental math program in the U.S. With customized versions for each state's learning standards, Think Through Math's lessons include a wide variety of interactive item types, ensuring students are well-prepared for the more sophisticated question types being used on state-level assessments. TTM's unique, customized motivation increases engagement and builds self-esteem so students increase their time on task.
For more information visit http://www.thinkthroughmath.com.
About Think Through Learning & Think Through Math
Think Through Learning, a leader in education technology innovation, is transforming math education in schools throughout the United States. While often used as an intervention program for struggling students, Think Through Math's adaptive learning technology addresses the learning needs of all students, including English Language Learners (ELL), those with advanced math aptitude, and students with learning disabilities.
Designed for grades 3 and above, Think Through Math is the only software system that integrates state-certified teachers to tutor struggling students live in order to improve their math understanding. Think Through Math ignites curiosity about math and helps students learn how to think mathematically. The 2014 and 2012 recipient of the SIIA CODiE Award for Best Mathematics Instruction Solution Think Through Math is recognized as the fastest-growing supplemental math software. Since its launch in 2012, Think Through Math has become a critical part of the RTI, STEM, and 1-to-1 strategies of state education departments and thousands of districts and schools across the United States.