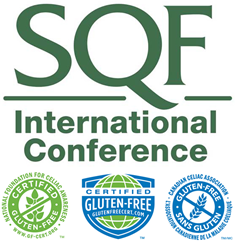 informing food retailers and manufacturers about the most effective approach to producing safe, reliable gluten-free product claims is key and the 2015 SQF Conference provides an ideal educational platform to do this
Toronto, ON (PRWEB) October 01, 2015
The Allergen Control Group Inc. (ACG) owners of the Gluten-Free Certification Program (GFCP) is proud to announce its sponsorship and participation in the upcoming 2015 Safe Quality Food (SQF) International Conference, to be held this November 3rd-5th at the JW Marriott Hotel, in Indianapolis, Indiana.
Approximately eight to ten percent of the North American population is medically diagnosed with either celiac disease or non-gluten sensitivity. Since there is no cure for this condition, these consumers must resort to a strict gluten-free diet, for life.
Paul Valder, President of ACG says that, "informing food retailers and manufacturers about the most effective approach to producing safe, reliable gluten-free product claims is key and the 2015 SQF Conference provides an ideal educational platform to do this."
As part of the Conference segment "Express Learning Bites" ACG will be presenting two thirty-minute sessions titled "Gluten-Free Global Threshold Wars – How Safe is Safe?" Wednesday, November 4th from 3:50 PM – 4:20 PM and Thursday, November 5th. 11:00 AM – 11:30 AM, Room Grand 4.
"Our intent is also to support the many global Certification Bodies in attendance, who are approved by ACG to professionally manage the GFCP ISO-based third-party audit and certification process," states Allen Rekunyk, Vice-President of Business Development, at ACG.
Globally approved ACG certification bodies include AIB International, AsureQuality Ltd., bQb-Cert LLC, Bureau de normalisation du Québec, BSI Group ANZ Pty Ltd., Eagle Certification Group, Intertek, Orion, Perry Johnson Registrars Food Safety, Inc., SAI-Global, Silliker Global Certification Services and SGS.
Delegates attending this year's 2015 SQF Conference and seeking to learn more about successfully implementing the GFCP Standard should visit exhibit space #27 located in the "Solutions Showcase", in the JW Grand Foyer, outside the General Session room.
About the Allergen Control Group Inc. (ACG)
The Allergen Control Group Inc. is a privately held corporation which owns and operates the Gluten-Free Certification Program which is endorsed exclusively by the NFCA in the USA and the CCA in Canada. http://www.glutenfreecert.com
About the National Foundation for Celiac Awareness (NFCA)
The National Foundation for Celiac Awareness (NFCA) is a US-based 501(c)(3) non-profit organization that drives diagnoses of celiac disease and other gluten-related disorders and improves the quality of life for those on a lifelong gluten-free diet. For more information, visit http://www.CeliacCentral.org.
About the Canadian Celiac Association (CCA)
The Canadian Celiac Association is the national voice for people who are adversely affected by gluten, and is dedicated to improving diagnosis and quality of life. Based in Mississauga, Ontario with 28 Chapters across the country, its mission includes advocacy, education, research and community support. http://www.celiac.ca