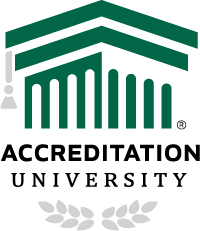 Cary, NC (PRWEB) October 01, 2015
Accreditation Commission for Health Care (ACHC) announces the launch of Accreditation University as a division of ACHC to create a foundation for additional educational offerings aimed at helping providers with the accreditation process. With more than 29 years of experience partnering with healthcare providers to deliver an educational accreditation service, ACHC has recognized the need for healthcare organizations to have access to comprehensive educational resources that facilitate quality patient care, efficient business operations, and compliant practices.
As a nationally recognized accreditation organization, ACHC places great value on continuing education as a means of achieving and maintaining accreditation. The formalization of Accreditation University as a division of ACHC focuses resources within the organization to provide a full range of educational offerings that meet the individual needs of providers.
"Our entire organization is committed to partnering with organizations and healthcare professionals to facilitate the highest-quality healthcare," said José Domingos, CEO. "The expansion of our educational products and services is a natural extension of our accreditation foundation, allowing us to leverage our expertise to better help providers achieve success."
Accreditation University will continue to offer existing educational products in the form of expanded workbook and workshop opportunities. Additional products and services will support providers where they may experience a gap in expertise, resources, or time. These customized educational solutions will be available in a wide array of policy manuals, forms, and other tools to be introduced in 2016.
Additionally, Pharmacy, DMEPOS, and Sleep providers will have access to a full line of customized consulting services delivered by ACHC's highly qualified network of Certified Consultants. By offering a personalized line of consulting solutions for providers, Accreditation University will enhance healthcare organizations by helping to implement sound policies, procedures, and practices. More information about Accreditation University products and services can be found at accreditationuniversity.com.
ACHC is a not-for-profit accreditation organization that has stood as a symbol of quality and excellence since 1986. The organization has CMS Deeming Authority for Home Health, Hospice, and DMEPOS and a Quality Management System that is certified to ISO 9001:2008. ACHC's broad range of accreditation programs also includes Pharmacy, Sleep, Private Duty Nursing, and Behavioral Health. ACHC is the provider's choice for accreditation because of its personal Account Advisors, relevant and realistic standards, competitive pricing, and consultative approach to accreditation. Accreditation by ACHC reflects an organization's dedication and commitment to meeting standards that facilitate a higher level of performance and patient care.
For more information on ACHC's accreditation programs and educational resources, or to download ACHC accreditation standards, please visit achc.org or contact them at customerservice(at)achc(dot)org or 855-937-2242.