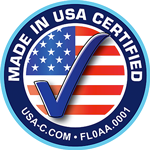 To be recognized as the top 14 best remodeling companies in the nation validates our vision of being the window replacement experts
Lanham, Maryland (PRWEB) October 01, 2015
Thompson Creek Window Company, the mid-Atlantic's leading home improvement replacement product company, has made Qualified Remodeler magazine's annual list of top 500 remodelers in the United States for the tenth time. The Qualified Remodeler Top 500 program is a third-party verified analysis of the financial performance of remodeling firms throughout the country. Every year, more than 50,000 invitations to apply are sent annually to subscribers of Qualified Remodeler. The returned applications are analyzed and verified by Qualified Remodeler magazine's editorial staff and checked through public records, websites and other sources.
Thompson Creek Window Company was ranked 14 on the Qualified Remodeler 2015 Top 500 list. Thompson Creek Window Company is the only replacement window manufacturer located in the Washington, DC and Baltimore, MD markets to appear on this list.
"To be recognized as the top 14 best remodeling companies in the nation validates our vision of being the window replacement experts," said Rick Wuest, President and CEO of Thompson Creek. "Our growth is a result of the business we generate from our satisfied customers and the great feedback they are giving to their friends and neighbors about our company."
Qualified Remodeler, the premier publication serving contractors who specialize in residential and light commercial remodeling, selected Thompson Creek based on its significant and sustained success in terms of installed remodeling dollar volume, total years in business, industry awards, and community service. The Top 500 is the longest ongoing recognition program in the remodeling industry.
Additional information on the Top 500 can be found in the August issue of Qualified Remodeler and at http://www.qualifiedremodeler.com/top-500.
About Thompson Creek
Thompson Creek Window Company is a privately owned and family-operated manufacturer and installer of energy-efficient home improvement replacement products. Founded in 1980, Thompson Creek Window Company began as a manufacturer of energy-efficient, maintenance-free vinyl windows. Since that time, Thompson Creek Window Company has evolved into one of the leading specialty home improvement contracting companies in the nation. The company's product mix includes replacement windows and doors and a clog-free gutter system. Thompson Creek Window Company is headquartered in Lanham, Maryland and began construction on a new 117,000-square-foot building in Upper Marlboro to house its new manufacturing and warehousing operations expected to be completed Spring 2016. Thompson Creek employs over 400 people in the Washington D.C. region.