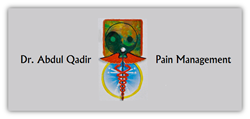 Scotch Plains, NJ (PRWEB) September 30, 2015
It has been one year since Dr. Abdul Qadir was reviewed and approved as an NJ Top Doc. Dr. Abdul Qadir is a board certified Anesthesiologist and pain specialist. In addition to Anesthesiology, he underwent additional fellowship training dedicated to treat patients with a variety of acute and chronic painful conditions. He is also board certified in Medical Acupuncture. This puts Dr. Qadir in a unique position to diagnose and treat various painful conditions through not only traditional allopathic medicine but also through alternative medicine i.e. acupuncture. He has extensive experience and knowledge in his specialties.
In addition to pain treatment, Dr. Qadir also acquired training to treat chronic non healing wounds. He likes to spend part of his work week treating chronic wounds at Atlanticare Would Healing Center.
Regional Pain Care offers advanced interventional pain management, acupuncture and medical management of pain for an array of chronic painful conditions.
Dr. Qadir combines traditional allopathic medicine, with acupuncture (if indicated) to provide you the maximum benefit of the therapy. He has extensive training and knowledge in performing interventional procedures including but not limited to:

Facet injections
Epidural injections
Radiofrequency Rhizotomy for chronic neck / back pain
Sympathetic nerve blocks
Peripheral nerve blocks
Spinal cord stimulation
Trigger points injections etc. to name a few
Headache management
Dr. Qadir examines patients and prescribes the best treatment plan for them to help them in recovering quickly from back / neck pain, cancer pain and headaches, etc
The practice offers many services, including but not limited to:

Minimally Invasive Surgery
Sports Medicine & Arthroscopy
Partial & Total Joint Replacement
Trauma / Fracture Care
Treatment of Spinal Disorders
General Orthopaedic
Bone Density Testing
Platelet Rich Plasma Injection Therapy
Hip Arthroscopy
Foot & Ankle Care
Osteoporosis
Laser Treatment
Customized Knee Replacement
Dr. Qadir is conveniently located in Pleasantville, NJ. For more information and locations you can visit Dr. Qadir's full profile at http://www.njtopdocs.com/abdulqadirmd.
About Us
NJ Top Dentists is a comprehensive information resource of Top Doctors, Dentists and Hospitals. We are profiling over 900 Healthcare Providers and have made it convenient for you to find them.
NJ Top Dentists allows patients to "meet" these providers online before making their appointment.
For more information, visit http://www.NJTopDocs.com.
You can also follow us on Facebook – Twitter – YouTube