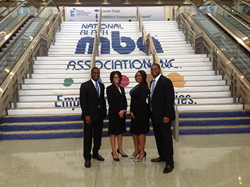 (PRWEB) September 30, 2015
A team of MBA students representing Georgia State University's J. Mack Robinson College of Business has won the National Black MBA Association (NBMBAA) Case Competition in Orlando, Fla.
This is the second consecutive year that the Robinson College team has won the competition, which awards a $25,000 scholarship.
Osekhale Osara, Kakia Prasad, Wole Ralph and Robert Smith bested 33 other teams from across the nation. Auburn University and Massachusetts Institute of Technology took second and third place, respectively.
Robinson also swept the individual awards, with Prasad named best presenter and Smith named best at question and answer.
"We are enormously proud of Osekhale, Kakia, Wole and Robert for winning one of the most rigorous case competitions in the country," said Harley E. (Chip) Ryan, associate dean for curriculum and teaching. "It's a tremendous reflection on the caliber of our students that we now have won the NBMBAA Case Competition for two years straight."
Fiat Chrysler Automobiles sponsored the competition, which challenged the teams to identify the optimal strategy for headlamp sourcing for the next Jeep Wrangler.
Steven S. Dionne of the Department of Managerial Sciences was the team's faculty adviser.
Established in 1970, the National Black MBA Association, Inc. is dedicated to developing partnerships that result in the creation of intellectual and economic wealth in the black community.