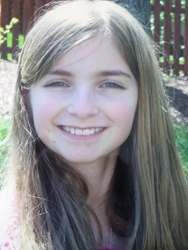 All of the proceeds from the Ellie Helton Memorial 5K and Fun Run benefit the renowned Brain Aneurysm Foundation.
Hanover, MA (PRWEB) October 01, 2015
Register for the Ellie Helton Memorial 5K and Fun Run by October 3rd in order to receive complimentary t-shirt and reduced registration fee.
Scheduled to take place on Saturday, October 17, 2015, the Ellie Helton Memorial 5K and Fun Run honors 14-year old Ellie Helton who passed away in July of 2014 as a result of a brain aneurysm. Ellie loved God, her family and friends, superheroes, Reese's Peanut Butter Cups and pizza. She was a vibrant, unique spirit who loved life, was accepting of others and persevered in everything she tried.
All of the proceeds from the Ellie Helton Memorial 5K and Fun Run benefit the renowned Brain Aneurysm Foundation. The registration fees to participate are as follows:

5K Adult Run (Timed event) and Walk (Untimed event) registration fee: $30 until 10/3; after 10/3 the fee will increase to $35
1 Mile Youth Fun Run registration: $10 fee for all ages under 12
Virtual Participant: If you cannot make it to the event but would like to support the cause; register as a "virtual" participant for $50 by 10/3 and receive a complimentary event t-shirt.
Children under 12 attending with a parent are free; however, if they would like to receive a t-shirt, they must register.
All who register by October 3rd are guaranteed a t-shirt (standard adult and youth size t-shirts available).
All are welcome to wear a costume of your own choice or one that represents Ellie. She loved the color pink, superheroes, Minions, Greek mythology, Harry Potter, Hunger Games and Reese's Cups. Also, please feel free to wear normal running attire.
The event takes place at the WakeMed Soccer Park located at 201 Soccer Park Drive in Cary, North Carolina. Registration packet pick up will take place on Friday, October 16 from 5:00 to 7:00 pm at Fleet Feet, 1104 Market Center Drive in Morrisville, NC. Then on Saturday, October 17, the day of the event, registration begins at 8:00 am at WakeMed Soccer Park.
The Youth Fun Run starts at 9:00 am, while the 5K Run/Walk kicks off at 9:30 am. There will be an awards ceremony after the completion of the 5K race.
For more information, to volunteer or become a sponsor please contact: elliesrace(at)gmail(dot)com
The Brain Aneurysm Foundation was established in 1994 in Boston, Massachusetts with a mission to promote early detection of brain aneurysms by providing knowledge and raising awareness of the signs, symptoms and risk factors; work with the medical communities to provide support networks for patients and families; as well as to further research that will improve patient outcomes and save lives. For more information about the Brain Aneurysm Foundation, visit http://www.bafound.org.