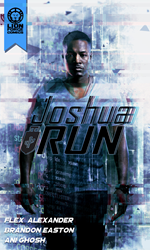 "I've been a huge comic book fan since I was a little kid. This is a dream-come-true as a writer because it gives me a brand new creative outlet." -- Flex Alexander
St. Louis, MO (PRWEB) September 30, 2015
Actor/Producer Flex Alexander has seemingly done it all in his wild career: battled snakes on a plane with Samuel Jackson, starred in the hit sitcom One on One, and walked us through the ups and downs of his day-to-day life in the OWN docu-series, Flex & Shanice. Now he's adding "cyber hacker" to his long resume. Flex stars as the titular hero David Joshua in the graphic novel adaptation of his Joshua Run concept, premiering today as an e-book from digital-first publisher Lion Forge Comics.
"I've been a huge comic book fan since I was a little kid," Alexander said. "This partnership with Lion Forge is a dream-come-true as a writer and producer because it gives me a brand new creative outlet. I'm looking to roll this project out in a big way!"
Based on the idea of a modern-day Robin Hood, Joshua Run tells the story of a computer-hacker who solves problems for working people by fixing parking tickets and erasing student loans. The low-level stakes increase dramatically when he stumbles upon a vast government conspiracy and has to fight his way out.
Scripted by GLYPH Award-winning writer Brandon Easton (ThunderCats, Marvel's Agent Carter) and illustrated by Ani Ghosh, the 21st century tale of high-tech espionage releases today on all major e-book platforms with a print edition following next month.
"Joshua Run is such a fun read, with all the plot twists of a summer blockbuster movie," said Lion Forge CEO David Steward II. "Flex has tons of fresh ideas and it's been great working with him to bring this one to life. I can't wait to see how his fans react now that they can see all the page-turning action for themselves."
ABOUT LION FORGE COMICS
Lion Forge is a St. Louis-based transmedia studio with a focus on digital publishing. With both original and licensed titles, Lion Forge brings together the brightest talent to acquire and develop content and character franchises within the comic book, television, film and interactive gaming industries. Lion Forge applies cinematic elements to each property to create compelling, story-driven experiences from start to finish, bringing unique entertainment experiences to both traditional and digital marketplaces. For more information, please visit http://www.lionforge.com or the Lion Forge Facebook and Twitter pages.
# # #
For additional info, review copies, or images:
Chandra McQueen, MoonaPR
732-684-3422 | chandra(at)moonapr.com
Jesse Post, Marketing Director
857-544-6281 | jessepost(at)lionforge.com