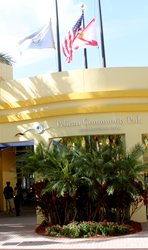 Sunny Isles Beach, Florida (PRWEB) September 30, 2015
The City of Sunny Isles Beach will hold the next town hall meeting designed to share updates to the City's Comprehensive Plan and the Transportation Master Plan plus at the same time welcome feedback from residents regarding their needs. The meeting will be on Tuesday, October 6, 2015 at 6:30 pm at Pelican Community Park (18115 North Bay Road) on the 2nd floor; all are welcome to attend.
The open meeting will assist city planners in determining how the City should plan for the future, with a special focus on mobility issues, or transportation of every form: walking, biking, bus or automobile travel within the City borders. The meeting is designed as an interactive forum in which the facilitators listening to ideas from residents and business owners alike. Residents are also encouraged to complete an online survey available on the right side of the home page on the City's official website, sibfl.net. Complete a survey today! Parking for the meeting is available along 181 and 182 Drive, along Atlantic Boulevard, and at the Government Center Garage.
To stay informed about this and other events go to the official City website at sibfl.net, watch SIBTV, read the SIB Community Newspaper, or follow the City on Twitter & Instagram (@CityofSIB), and on Facebook (City of Sunny Isles Beach). For more information please call Zoning Administrator Claudia Hasbun at 305.792.1740 or email at chasbun(at)sibfl.net.