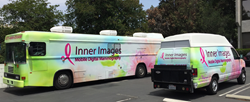 Sherman Oaks, CA (PRWEB) October 01, 2015
Inner Images Inc., a leading mobile and all-digital mammography company, announced today the mobile coach will visit NFL Network's studios in Culver City to screen their employees on Oct. 13 during National Breast Cancer Awareness month.
Capable of performing lifesaving mammogram screenings onboard, Inner Images is the only mobile mammography vehicle providing service to the greater City of Los Angeles.
"The coach has helped us continue on our mission to screen as many women as possible for breast cancer, a disease which will strike one in eight women at some point in their lifetime and is the second leading cause of death for women," said Founder and President of Inner Images, Inc., Debora Wright.
The mobile coach is the latest addition to an already existing fleet of four mobile vans that travel throughout California screening women for breast cancer at major companies like Microsoft and Yahoo, as well as radiology clinics, organizations, churches and health fairs.
For the seventh year, the NFL and the American Cancer Society are teaming to support October's National Breast Cancer Awareness Month with "A Crucial Catch: Annual Screening Saves Lives" campaign. Among the ways the NFL is raising awareness and reminding women 40 and older about the importance of having an annual mammogram is offering employees free screenings on the mobile coach.
One of the many reasons women put off getting their annual mammogram is because they do not want to take time off of work. Mobile mammograms help save lives, reduce health care costs and increase productivity by getting women back to work in 20 minutes.
"We can now better serve smaller and mid-sized companies who might not have had the space for us to bring our mobile machines inside their offices. We can also better serve the uninsured and underinsured women of California," Wright added.
About Inner Images.
Inner Images has been in business since 2003 and has performed over 250,000 mammograms on women in California. They are licensed by the Food and Drug Administration (FDA) and comply with the Mammography Quality Standards Act (MQSA). They are based in Los Angeles, CA. More information can be found on their website, http://www.innerimagesinc.com.