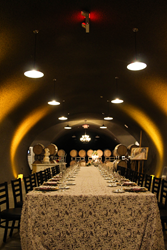 TEMECULA VALLEY Southern California Wine Country (PRWEB) October 01, 2015
"Visit now, visit again soon, and visit in the near future to experience all that is new – wineries, restaurants, accommodations, and more – in Temecula Valley Southern California Wine Country," encourages Kimberly Adams, Visit Temecula Valley president and CEO. "Less-busy mid-week is ideal with special Sunday-through-Thursday, better-than-weekend, nightly room rates at resorts, hotels, and motels." Welcoming 2.6 million visitors each year, the casual, picturesque Temecula Valley is located 60 minutes from San Diego and Orange County, and within 90 minutes of Los Angeles and Palm Springs.
Stay Now
Carter Estate Winery
Reserve in advance; swirl and sip Temecula Valley A.V.A. limited-release estate wines in the luxurious sit-down wine tasting room at this distinguished new winery.
Mama Rosa's Trattoria at Robert Renzoni Vineyards
Experience a pleasing new place to indulge in the beautiful aromas and tastes of Italian-inspired fare (satisfying sandwiches, pastas, pizzas) with Temecula Valley A.V.A. Italian-varietal wines.
Ponte Family Estate Montepulciano
The Restaurant at Ponte and Bouquet Restaurant both feature the new, first-release Temecula Valley A.V.A. Montepulciano – an estate Italian-varietal grape with iconic, regional potential.
18th Green on Journey at Pechanga
A recent change-up makes the finishing hole more phenomenally fun and playable; with two good shots golfers can make a birdie.
Pairings at Lorimar Winery
Wine and dine on the upstairs patio with the new pairings menu that features flatbreads, salads, fries, pasta, and paninis.
Temecula Olive Oil Company Martini Olives
Martini lovers have a flavorful new reason to shop Old Town Temecula: olives – perfectly ripe, stuffed with crunchy garlic cloves, marinated in vermouth.
La Quinta Inn & Suites
The freshened-up main lobby and breakfast room are graced by new furniture and tile; the 56 spacious, quality, guest rooms and hallways have new carpets.
Stay Again Soon
Kelsey's Upscale American Pub at Pechanga
The reinvented, modern, and unpretentious restaurant will open soon with an all-new flair for hand-cut barbecued meats, hearty starters, gourmet burgers, wood-fired pizza, and Southern California brews.
Flower Hill Bistro & Herb Garden at Miramonte Winery
The Temecula Valley A.V.A. will soon feature a new culinary, proprietary blend: Old Town Temecula's popular Public House is joining forces with Miramonte Winery.
The Cave at Oak Mountain Winery
Opening soon is the 11,500 square-foot wine cave. The underground space will include a wine tasting room offering a bistro menu in the main subterranean corridor, subterranean banquet room and event space, and ideal temperatures for storing up to 1,000 barrels of Temecula Valley A.V.A. wine.
Fazeli Cellars Winery
With a rich cultural heritage and approximately 42 acres of adjacent Shiraz vineyards, the welcoming, new winery will include a tasting room, deli, and wedding and events center.
The Hotel Temecula
History buffs will most appreciate this authentic 1890s riff on glamping. The historic, refurbished hotel will offer unique, all-inclusive overnight stays featuring wine and a gourmet meal.
Stay Again In the Near Future
Avensole Winery and Marketplace Restaurant
There will be much to discover at this vibrant wine estate with 17½ acres of vineyards. The property will feature a wine tasting room adjoining the production facility, and a restaurant with fun wine bar, coffee bar, and gift shop. The estate will also include unique indoor and outdoor, special event and wedding venues.
Annata Bistro at Mount Palomar Winery
One of Temecula Valley Wine Country's original wine estates will feature a full, new restaurant with an Italian-Mediterranean inspired menu.
Pechanga Resort Hotel Addition
Breaking ground in the near future at the award-winning Pechanga Resort & Casino, will be a new, luxury four-diamond hotel wing, a luxury spa, a resort-style pool complex, two excellent restaurants, and new ballroom and meeting space. The new hotel wing will feature 560 rooms; more than one-third will be suites.
Wilson Creek Winery Tasting Room
An extensive tasting room expansion will yield more, adequate space and is designed to provide a better customer experience at this popular Temecula Valley Wine Country destination.
Embassy Suites Temecula Valley Wine Country
The 170 two-room suites and six guestrooms will be upgraded with new tile, carpet, wallpaper, and soft goods. The renovation will also include the external and internal meeting space.
ABOUT THE TEMECULA VALLEY AND VISIT TEMECULA VALLEY
With natural gifts of climate and geography, bolstered by Pu'eska Mountain, the Rainbow Gap, and Santa Margarita Gap, Temecula Valley is widely recognized for its scenic vineyards, award-winning wines, and friendly wineries as Temecula Valley Southern California Wine Country. The destination includes the Temecula Valley A.V.A. (American Viticulture Area) as well as Downtown, Old Town Temecula, and Pechanga Resort & Casino.
Visit Temecula Valley is online at VisitTemeculaValley.com; "Temecula Valley Southern California Wine Country" on Facebook; @Visit_Temecula on Twitter; and at FilmTemecula.com. The Temecula Valley Visitors Center is located in Old Town Temecula on Mercedes Street adjacent the Old Town Parking Garage. For visitor assistance, call 888/363-2852 or 951/491-6085.