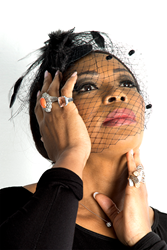 Monalisa's designs say, "I am bold, I am confident, I am unafraid to experiment with color."
Los Angeles, California (PRWEB) October 05, 2015
Today there is a new breed of designers, like Monalisa Okojie, known as "The Jewelry Designer To the Stars" and CEO of Nehita.com. Most recently the company unveiled Monalisa's hand beaded Sapphire Corset during Couture Fashion Week. The exclusive one-of-a-kind, creation was worn by Nema Kamar, star of the VH1 hit show, "My Life." Celebrities from film and television attended the red carpet runway soiree to view the new collection. as well as a number of popular entertainers from BRAVO, Netflix and Style. Monalisa's designs were included in Malan Breton's 2016 Collection. The show was held in New York's Times Square District where models and fashion industry icons converged. Glamorous haute couture creations took the runway accessorized by Nehita Jewelry.
New York Couture Fashion Week introduced the stunningly beautiful Nehita Scarf Collection to a spellbound audience. Since the launch of Nehita,Inc., Ms. Okojie's popularity as a designer has attracted those devotees of fashion from all over the world. Her designs are inspired by the beautiful floral explosions of color that sweep across the African continent, a reflection of her Nigerian heritage.
Monalisa's creations are a reflection of expressing one's own identity and presenting a look that transitions easily for any occasion at any time. "Women today have busy careers and often go from a business meeting to a cocktail or dinner setting. "A scarf and a good piece of jewelry worn appropriately can quickly give them a distinguished look within minutes," comments Monalisa. Jewelry and scarves will always play a pivotal role in a woman's wardrobe and have most recently been included in fine menswear, as evidenced by the popularity and pre-sale of Nehita's men's line of scarves. While the French have shown the world over a hundred ways to wear the scarf, women from the African Continent have always worn scarves around their head. Nehita's elegant silk scarves are a sophisticated balance of a canvas of color and artistic design. Created and designed with precise detail, they represent a new generation of fashionistas as well as for those who build their wardrobe around accessories.
Monalisa's designs say " I am bold, I am confident, I am unafraid to experiment with color." Every season there is a new revolution of fashion, it is no longer dictated by Paris, New York and Rome. Fashion today is a global statement, it is the pairing of jewels with jeans, a jeweled anklet, a scarf tied on a handbag, a colorful scarf draped around ones neck. How can anyone forget Marilyn Monroe hanging out of a window draped in a scarf, or the Dutchess of Windor walking down the gangway wearing a scarf patterned after Prince Edward's Tartan, most recently Beyonce walking her daughter on the beach. As fashion continuously evolves, the varieties and accessories have also changed. Those who love fashion become the trendsetters, not by what they wear, but how the style is interpreted on them. Monalisa draws from the concept of two continents; that is, scarves and jewelry will always be the mainstay of fashion.
Nehita Jewelry has been featured in international magazines. Nehita Jewelry can be seen by celebrities on the occasion of Hollywood's biggest events, including the Emmy's, the Grammys, the Oscars, the Image Awards, the SAG Awards and others. Her celebrity roster includes Jennifer Love Hewitt, Meagan Good, Nick Cannon, actress Halle Berry, Natalie Cole, Brandy, Alan Cumming, Sally Richardson, CCH Pounder, Melora Hardin and the late Whitney Houston.
About Monalisa Okojie
A jewelry designer and philanthropist, Monalisa leads a full and purpose driven life as a wife and mother. Her company, Nehita Inc., has provided support to many non-profit organizations in the United States and Africa. Monalisa is also the founder of an organization called Upward African Woman, a non-profit California based organization giving hope to disadvantaged women. The organization tackles issues of poverty, disease and illiteracy.
Monalisa's Life and Background
Monalisa is an Ishan Princess from Eguare, Irrua in Edo State. She was born in Lagos and attended the St Mary's private school in Lagos, later attending the Federal Government Girls College, Calabar. She obtained her Bachelors of law degree from the University of Ekpoma and Barrister at Law from NLS Lagos. She acquired knowledge of precious stones from the Gemological Institute of America. Monalisa calls herself a patriotic Nigerian who represents her country wherever she goes. She is more than that, she is a global ambassador who uses her celebrity to give hope to those whose lives she touches.