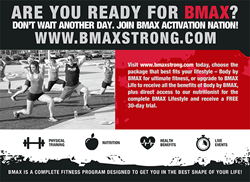 "Once you start BMAX, you won't want to stop,"
(PRWEB) October 01, 2015
BMAX (Berler Maximum Activation Xtreme), the visionary training program based on creator Andy Berler's unique Maximum Activation training principle and chosen as the official workout of multiple NFL cheerleader squads, today launched its global operations.
Previously available only to the New England Patriots, Washington Redskins, Cincinnati Bengals, and St. Louis Rams cheerleaders and limited private clients, BMAX is now universally accessible via the Internet. Members enjoy access to video workouts, direct interactions with a BMAX nutritionist, and a truly social experience with fellow members from all walks of life.
BMAX was developed for today's busy lifestyles. Thanks to Maximum Activation, members can achieve maximum results when exercising for less than 30 minutes, every other day. And no machines are required.
"Maximum Activation 'fires' multiple muscle fibers simultaneously and trains you and your body to effectively burn calories and get rid of unwanted fat while efficiently building lean muscle up to 48 hours after every workout – even on days off," Berler explained. "I designed it to make workouts maintainable, sustainable, and safe."
BMAX focuses intensely on movement-based, compound, and static exercises that deliver the five critical health components of physical fitness: cardio, flexibility, muscle strength, muscle endurance, and body composition.
BMAX eliminates the most significant factors that disrupt and terminate other workouts: time constraints, boredom, fear of injury, and frustration over lack of results. BMAX workouts last less than 30 minutes. Exercises are so innovative and plentiful that members never repeat an exercise within a session. Concern about repetition-induced injury is gone. And members quickly note improved agility, balance, coordination, speed, power, and reaction time.
"Once you start BMAX, you won't want to stop," Berler added. "And neither will your body."
Visit http://www.bmaxstrong.com today, choose the package that best fits your lifestyle – Body by BMAX for ultimate fitness, or upgrade to BMAX Life to receive all the benefits of Body by BMAX, plus direct access to our nutritionist for the complete BMAX Lifestyle – and receive a free 30-day trial.