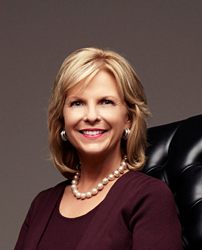 Patti Husic's bank is growing and so is her influence in her community and the broader banking industry.
Harrisburg, Pennsylvania (PRWEB) October 05, 2015
Centric Bank President & CEO Patti A. Husic has been selected by American Banker as one of The 25 Most Powerful Women in Banking in 2015. Chosen from hundreds of banking executives, she ascended from her 2014 ranking of #7 on the 25 Women to Watch List. "Patti's bank is growing and so is her influence in her community and the broader banking industry," says American Banker Executive Editor Bonnie McGeer.
This annual ranking recognizes women for their impact on their company, the financial industry, and community at large, as well as for their leadership skills and innovation in the face of professional challenges.
"The selection committee was impressed by Patti's business philosophy and her dedication to helping lift other women up," says McGeer. "One of her goals is to target experienced businesswomen to serve on Centric Bank's board of directors. We congratulate Patti for earning her fourth designation on American Banker's ranking and her first recognition as a Most Powerful Women in Banking."
"I'm honored to join such esteemed leaders of the world's most powerful banks," says Husic. "Thanks to the groundbreaking efforts of these industry pioneers, women at every career level in banking can now see themselves in the role of CEO as we open doors to the C-suite and the board table for them. What was once considered implausible is achievable in our lifetime."
There are only 13 female CEOs of Pennsylvania-based banks, but Husic is optimistic about the influence forged by women leaders and their bright future in the industry. One way she is working to create paths to power for female bankers is by spearheading the Pennsylvania Bankers Association Women in Banking initiative which provides opportunities for advocacy, mentoring, and sponsorship.
"Patti remains extremely active in working to ensure the Women in Banking (WIB) Conference she initiated while she was Chair of the Pennsylvania Bankers Association (PBA) not only continues, but grows," says McGeer.
"Not only did 285 women receive actionable insights and tools to begin career changes at our second annual Women in Banking conference, but the event was live-tweeted and the content shared on several social networks," says Husic. "Unleashing the information presented by this group helps young women see themselves pursuing a career in banking and finance. The PBA WIB Conference is also a recruitment tool for our industry. We want recent graduates to join our conversation and see how synergistic STEM and finance careers are. The future of banking depends on our daughters and nieces saying, 'I want to run a bank someday!"
This past July, Husic completed her board tenure for PBA, a member-driven organization championing tens of thousands of bankers across the Commonwealth. Serving as Chair in 2013-2014, she is only the third female in the Association's 120-year history and the first woman to serve as Chair since 1998.
"At Centric Bank, we don't have a women's initiative, we have a track record," says Husic. Based on her bank's own workforce dynamic, which is 75% female and 60% executive female, they continue to live this principle.
"All of the women in our rankings are truly exceptional leaders," says McGeer, who is also the Chair of American Banker's Women in Banking Editorial Committee. "We are proud to include Patti Husic as a recipient of one of the banking industry's highest honors. It is one thing to describe yourself as an 'entrepreneurial adviser' or a 'community champion'—but Patti can back it up."
"I tell my team all the time—it's important to stretch yourself, master new skills, and lead by example," says Husic. "I vividly recall the first time a colleague—someone on my Personal Board of Advisors—said I should seek the CEO position. I never thought of myself in that role. What I have learned is that no one asks you to apply for CEO. You have to show an interest and make the ask. 'Act presidential' is what my male colleague told me, and I never forgot it. Success begins with seeing yourself in that executive position."
The complete rankings can be viewed at American Banker's website and are featured in the October issue of American Banker Magazine. The honorees will be celebrated at a dinner and awards ceremony on October 8 at the Waldorf Astoria in New York City, hosted by American Banker and parent company SourceMedia. Speakers at the event, including honorees, will share their experiences and discuss the implications of growing female influence in the industry. It will include a special focus on the impact these women have on society at large.
About the Most Powerful Women in Banking and Finance
The Most Powerful Women in Banking and Finance recognizes the professional achievements, personal tenacity, and overall influence of the industry's top-performing female executives. The annual program, now in its 13th year, encompasses four lists: the 25 Most Powerful Women in Banking™, the 25 Most Powerful Women in Finance, the 25 Women to Watch, and the Top Banking Teams. Here are the rankings and details about the awards dinner.
About American Banker
American Banker is the essential resource for senior executives in banking and financial services, keeping its users updated on vital developments and focusing sharply on their most important concerns. American Banker Magazine is the monthly publication of American Banker, which also provides research and data and hosts an annual roster of professional events and conferences.
About Centric Bank
A two-time Best Places to Work and Top 50 Fastest-Growing Companies for four years, Centric Bank is headquartered in south central Pennsylvania with assets of $349 million and remains the leader in organic loan growth in central Pennsylvania. A locally owned, locally loaned community bank, Centric Bank provides highly competitive and pro-growth core financial services to businesses, professionals, individuals, and families. With a Five-Star Bauer Financial Rating, Centric Bank is also ranked as a Top 20 Lender for SBA Loans in the Philadelphia Region.
Founded in February 2007, Pennsylvania-based Centric Bank has financial centers located in Harrisburg, Derry Township, Mechanicsburg, and Camp Hill, and a commercial loan office in suburban Philadelphia. To learn more about Centric Bank, call 717.657.7727 or visit CentricBank.com. Connect with them on Twitter at @CentricBank and Facebook at Centric Bank.
Centric Financial Corporation is traded over the counter (OTC-Pink) with the ticker symbol CFCX.