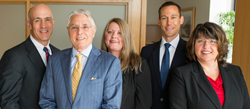 We serve CEOs, business owners, corporations, trusts, endowments, and multi-generation families. Our brand image, investment insights, and growing team convey fresh opportunities to all our clients as we focus on Compounding the future of You.
Harrisburg, Pennsylvania (PRWEB) October 09, 2015
FMA Advisory Inc., a fee-only asset management and financial planning firm headquartered in Harrisburg, Pennsylvania, has rebranded and hired two additional experienced investment advisors to meet clients' wealth management needs.
The firm's rebranding reveals a new logo, a new responsive website at FMA-Advisory.com, and a tagline, Compounding the future of You. "We serve CEOs, business owners, corporations, trusts, endowments, and multi-generation families. Our brand image, investment insights, and growing team convey fresh opportunities to all our clients as we focus on Compounding the future of You," says Peter J. LaBella, CFP®, founder, president, and 30-year portfolio manager.
Like their location at 1631 North Front Street, Harrisburg, the trusted, independent financial guidance that has been FMA Advisory's legacy remains the same.
"People have an emotional connection to their hard-earned money. As we listen to their stories of building businesses, forming family trusts, growing corporate portfolios, and evaluating tax consequences for investments, a safe future is nearly always the first of their life goals," says LaBella. "Whether it's insights received from our monthly Market Update or our quarterly newsletter, Thrive, we commit to bringing relevance, knowledge, and financial perspective to every portfolio."
Joining LaBella, who was among the first to become a fee-only asset manager in the region, is John J. Klobusicky, Chief Investment Officer, CFA®, CAIA. Bringing FMA Advisory a history of strong client management and extensive personal and institutional leadership, Klobusicky works closely with clients and prospects in managing their investment portfolios.
Before joining FMA Advisory, he was the Director of Portfolio Management and Group Vice President at M&T Bank, as well as the state manager for the bank's Private Client Services division. John also worked with M&T's Wilmington Trust division as a senior institutional portfolio manager for the bank's national footprint. Prior, he was market manager and Senior Vice President with Community Bank, N.A., Scranton, PA.
Also joining the firm is Matthew J. Kogan, CFP®, CAIA, JD. As Executive Vice President and Portfolio Manager, Kogan brings extensive experience in traditional and alternative investments having worked closely with global institutional and individual clients to achieve their specific goals. Previously, he served as Managing Director and Chief Operating Officer at Bryn Mawr Capital Management (BMCM) with responsibility for leading portfolio finance, accounting, currency hedging, operations, and administration. Prior to that, he served in various roles at the Vanguard Group including Chief of Staff in the Financial Advisor Services division.
"What sets us apart from most firms is our loyalty to our clients, rather than any specific investment products," says LaBella. "We deliver financial advice that is independent and objective based solely on the merits of the investment. Extensive research, in-depth market analysis, and the latest technologies allow us to provide clients with exceptional portfolio management services. We do not receive any commissions for transactions—a 25-year history we're proud of."
About FMA Advisory, Inc.
Clients across the U.S. have entrusted us with approximately $350 million in assets under management to help them build their financial futures. FMA's team of investment advisors has extensive knowledge and experience with asset management for individuals, families, and businesses. All of FMA's investment advisors have earned CFP® or CFA designations which are backed by solid financial education and more than 40 years of experience. If you are interested in learning more about FMA Advisory's services or would like to meet with any of FMA Advisory's investment team, we're only a call, click, or conversation away. To read our latest white paper, visit Perspectives on our website, and read Thrive, our quarterly newsletter.
Disclaimer
FMA Advisory Inc. ("FMA") is an SEC registered investment adviser with its principal place of business in the Commonwealth of Pennsylvania. FMA and its representatives are in compliance with the current registration and notice filing requirements imposed upon registered investment advisers by those states in which FMA maintains clients. The information contained in this article should not be construed as personalized investment advice. Before acting on financial advice, readers should consider whether it is suitable for their circumstances and consider seeking advice from a financial or investment adviser.