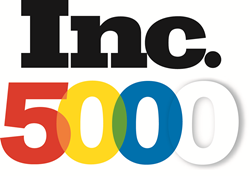 "It is truly an honor to have received this award alongside so many distinguished companies." -Todd Koren, CEO of Absolute Exhibits
Tustin, CA (PRWEB) September 30, 2015
Absolute Exhibits, Inc. (AE), a custom exhibit rental service provider, has ranked in the 34th annual edition of the Inc. 5000 list. Each year Inc. 5000 compiles a list of 5000 of America's fastest growing private companies based on a series of factors including jobs added, sales growth, and revenue. The list covers a variety of industries and aims to identify independent businesses that encapsulate a sense of entrepreneurial spirit. Prominent past recipients of this award include Yelp, Pandora, LinkedIn, and FitBit.
"It is truly an honor to have received this award alongside so many distinguished companies," said Todd Koren, CEO of Absolute Exhibits. "Looking through some of the former alumni of the Inc. 5000 list has always given me a sense of upcoming trends in business and to now be listed alongside them shows how far this company has grown." Mr. Koren started Absolute Exhibits promptly after graduating from Chapman University with a Bachelor's Degree in Business Administration and emphasis in Marketing Management. In the years since, he has grown Absolute Exhibits from an exhibit retailer to a custom booth rental service with several divisions and offices across the globe.
The 2015 Inc. 5000 listed online at Inc.com and featured in the September issue of Inc. magazine features a variety of up-and-comers in the business world. The three-year sales growth achieved by companies on this year's list averages a stunning 490%. The 5000 companies listed account for $205 billion worth of revenue and have generated over 647,000 jobs in the past three years.
"The story of this year's Inc. 5000 is the story of great leadership. In an incredibly competitive business landscape, it takes something extraordinary to take your company to the top," says Inc. President and Editor-In-Chief Eric Schurenberg. "You have to remember that the average company on the Inc. 5000 grew nearly six-fold since 2012. Business owners don't achieve that kind of success by accident."
Inc. magazine will be honoring all companies on the list in an annual event from October 21 through 23 in Orlando, Florida.
About Absolute Exhibits
A leading exhibition firm, Absolute Exhibits provides clients with turnkey solutions for designing and fabricating exhibits while managing the entire trade show experience as a one-source trade show and convention exhibit resource. Established in 2000, with locations in Southern California, Las Vegas, Orlando, and Bucharest, Romania, Absolute Exhibits rents and sells custom and system exhibits at over 300 shows in the USA and in countries around the world.
About Inc. Media:
The Inc. 500|5000 is a list of the fastest-growing private companies in the nation. Started in 1982, this prestigious list of the nation's most successful private companies has become the hallmark of entrepreneurial success. The Inc. 5000 Conference & Awards Ceremony is an annual event that celebrates their remarkable achievements. The event also offers informative workshops, celebrated keynote speakers, and evening functions.