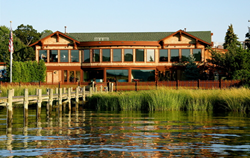 Allenhurst, New Jersey (PRWEB) September 30, 2015
Guests are invited to celebrate the 2015 Best Restaurateurs of the Year at the 31st Annual Awards Gala hosted by the New Jersey Restaurant & Hospitality Association. The event will take place on November 30th, 2015 at The Stone House in Warren, New Jersey. Bielat Santore & Company is pleased to announce that Steve Bidgood, owner of the Salt Creek Grille in Rumson, New Jersey, will be honored at the ceremony as recipient of this year's Restaurateur of the Year award.
Also to be recognized is: Donald Horn from Mayfair Farms in West Orange, New Jersey receiving the Deborah Roy-Dowdell Lifetime Achievement Award; Gold Plate Award Winners: Joanne Szibdat, General Manager of Mayfair Farms and Michael Cetrulo, owner of New Jersey eateries, Scalini Fedeli, Il Mondo Vecchico, & Sirena Ristorante; and George Kyrtatas, owner/chef of SweetWater Bar & Grill in Cinnaminson, New Jersey and Hospitality Award Winner.
Tickets and sponsorship information is available at http://njra.org/2015/09/31st-annual-awards-gala/. Admission includes a discounted price for hotel rooms at the Courtyard Marriot in Basking Ridge, New Jersey for the night of the gala, as well as access to a private shuttle from 5:00 pm until midnight. To register, contact Zoey Kramer at zkramer(at)njra(dot)org or 800-848-6368.
About Bielat Santore & Company
Bielat Santore & Company is an established commercial real estate firm. The company's expertise lies chiefly within the restaurant and hospitality industry, specializing in the sale of restaurants and other food and beverage real estate businesses. Since 1978, the principals of Bielat Santore & Company, Barry Bielat and Richard Santore, have sold more restaurants and similar type properties in New Jersey than any other real estate company. Furthermore, the firm has secured in excess of $500,000,000 in financing to facilitate these transactions. Visit the company's website, http://www.123bsc.com for the latest in new listings, property searches, available land, market data, financing trends, RSS feeds, press releases and more.