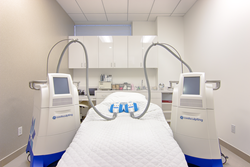 (PRWEB) September 30, 2015
The aesthetic professionals at Houston's Mirror Mirror Beauty Boutique are pleased to offer patients an exciting addition to the CoolSculpting family of fat elimination tools. The CoolMini was recently given expanded clearance by the Food and Drug Administration (FDA) for the treatment of submental fat, more commonly known as the double chin.
Excess fat below the jawline is difficult to address through diet and exercise. This sagging tissue often accompanies the aging process, although lifestyle and genetics can also play a large part in its formation. Unlike other areas on the body, however, submental fat is impossible to hide underneath clothing.
First introduced in 2005, Zeltiq's CoolSculpting has become the most popular method for noninvasive fat elimination. Created by a duo of Harvard scientists, CoolSculpting is based on Cryolipolysis: fat cells exposed to extreme cold will die off. These cells can then be naturally metabolized and eliminated from the body, allowing tissues to return to their formerly taut appearance.
CoolSculpting has proven to be a safe and effective method to eliminate fat along the abdomen, lower back, flanks (love handles), arms, and thighs. The inclusion of the CoolMini will add to these rapidly increasing numbers, as a recent study by the American Society for Dermatologic Surgery (ASDS) reported that more 22.4 million Americans were interested in noninvasive fat reduction.
The smaller size, unique shape, and innovative curvature of the CoolMini make it vastly different from other CoolSculpting applicators. The CoolMini has been specifically designed to treat small pockets of fatty tissue, such as that under the chin. The pain-free treatment takes 60 minutes, requires no downtime, and can produce initial results in as few as three weeks. Full benefits are seen in two to three months.
Mark Foley, the President and Chief Executive Officer of ZELTIQ explains this significance of this latest FDA-clearance, "I believe our new CoolMini applicator will provide a truly compelling alternative to other popular devices and methods currently used to treat and contour the neck, like liposuction." In reference to the 93% satisfaction rating of CoolSculpting, he then continues, "I have been particularly pleased with the very positive feedback we are receiving (on the CoolMini) from both physicians and patients."
Mirror Mirror Beauty Boutique was founded in 2014 by Houston's leading cosmetic surgeon, Dr. Paul Vitenas and his business partners Philippe Bibi and Alexander Vitenas. Drawing on more than 20 years of surgical and noninvasive experience, the team sought to create a spa like space, offering cutting-edge and dependable nonsurgical procedures. Mirror Mirror offers the full family of CoolSculpting tools, as well as other treatments such as dermal fillers, Botox Cosmetic, and the Titan Skin tightening system.
To get more information on CoolSculpting's CoolMini, or to set up a complimentary consultation appointment at Mirror Mirror, potential patients should contact the office at 281.810.9083. Drop-ins are welcome at Mirror Mirror and all visits are completely confidential.
Contact:
Mirror Mirror Beauty Boutique
4208 Richmond Avenue Suite 100
Houston, Texas 77027
281.810.9083
http://www.mirrormirrorhouston.com