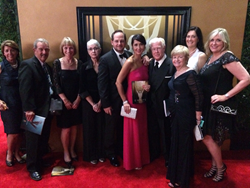 Seattle, WA (PRWEB) September 30, 2015
Today, Windstar Cruises announces a new partnership with sister brand VBT Bicycling and Walking Vacations featuring land and sea tours throughout Italy. Recently, Windstar also partnered with sister companies AEG and Ritz Carlton to promote its Rising Stars Travel Agent Challenge. Windstar's recent commitment to partner with sister brands and parent company Xanterra gives guests a more well-rounded travel experience.
New Partnership with VBT Bicycling and Walking Vacations
Windstar has partnered with VBT Bicycling and Walking Vacations for a new program entitled Italy Tour & Cruise, a collection of new back-to-back experiences in Italy, that were put on sale September 21, 2015. The Italy Tour & Cruise program gives guests the opportunity to experience the enchanting towns, countryside, and mountains of Italy through VBT's walking or biking offerings, before embarking on a Windstar Cruise to see the country and its ports by sea.
Sample Italy Tour & Cruise itineraries include:

Tour and explore the mountains and villages along the Amalfi Coast with VBT's Amalfi Coast and Capri Walking Tours itinerary, then discover the cobblestone streets and colorful towns while cruising along the iconic Greek and Amalfi coastlines on Windstar's Enchanting Greece & the Amalfi Coast itinerary - April 24, 2016
Bike along the Strada del Vino, one of Italy's most famous wine roads, between family owned wineries and the Tyrrhenian Sea on VBT's Tuscan Coast Tour before setting sail with Windstar to explore the glamour, the excitement, and the exquisite élan of the Italian Riviera on the Riviera Enchantment itinerary – May 25, 2016
Overlook the Adriatic Sea while biking along the coastal roads of Puglia, with stops for olive oil and wine tastings on VBT's Puglia: Italy's Undiscovered Coast before cruising along the sun drenched shores of Capri, Croatia, and Montenegro on the Adriatic Sea with Windstar's Classic Italy & Dalmatian Coast itinerary – June 6, 2016
Explore the Tuscan hills and converted monasteries during VBT's Italy: The Quiet Pathways of Tuscany walking tour, then experience the luxury and dazzling lifestyles of the Italian, French, and Spanish Riveras with Windstar's Glitter & Glam of the Rivieras itinerary – June 11, 2016
Windstar guests will receive special discounts and perks when they book a VBT tour with the corresponding Windstar cruise, including:

15% off cruise fare
Two free hotel nights in Rome after the VBT tour, before the Windstar cruise
Complimentary transfers to the yacht
Windstar Cruises Rolls out Red Carpet Rising Stars Winners
Windstar celebrated the winners of its 2015 Rising Stars Challenge last weekend at the 67th Annual Primetime Emmy Awards in Los Angeles, California. Windstar partnered with sister brands AEG, one of the leading sports and entertainment presenters in the world, and Ritz Carlton Los Angeles to create a VIP red carpet weekend in Hollywood for the top selling travel agents. Winners and their guests were treated to tickets to the 2015 Emmy Awards, accommodations at the Ritz Carlton, and complimentary air fare, dining and transfers to the airport. The agents were hosted by Joe Duckett – Windstar's Vice President of Marketing & Sales.
The four winners of Windstar's 2015 Rising Stars Challenge are as follows:

Phyllis Murray – Avoya Travel
Jim Eagan – Cruise Planners
Laura Dodson – The Cruise & Travel Specialist
Katie Sitton – The Cruise and Tour Center
The winners were selected based on sales results of the Windstar 2015 Rising Star Challenge and graduation from Windstar's Travel Agent Academy.
To read more about the event, check out our blog.
Windstar Yacht Club Enhanced with Extended Member Benefits
Windstar Cruises recently enhanced Windstar Yacht Club, its loyalty program for returning guests, by offering exclusive discounts from top luxury brands in parent company Xanterra Parks & Resorts' portfolio. Windstar cruisers are automatically registered as members of the Windstar Yacht Club following their first sailing. Yacht Club Membership rewards include the following discounts at other Xanterra properties:

5% off a future Windstar voyage
5% off an Austin Adventures adventure vacation
5% off any guided, self-guided, or private adventure with Country Walkers
5% off any scheduled or private CW Safari
15% off a 1, 2, or 3 bedroom River Suite at Kingsmill Resort, plus a $50.00 resort credit
$200 resort credit per stay at The Cloister or The Lodge at Sea Island
10% off standard rack rates and a complimentary room upgrade at The Broadmoor
For more on the Yacht Club Membership, visit http://www.windstarcruises.com/Yacht-Club/Member-Benefits/.
About Windstar Cruises
Windstar Cruises operates a fleet of small luxury cruise ships known for its intimate yacht style experience and unique voyages to the world's best small ports and hidden harbors. Its three recently renovated sailing yachts carry just 148 to 310 guests and cruise to 50 nations, calling at 150 ports throughout Europe, the South Pacific, the Caribbean, and Central America. In May 2014, Star Pride, the first of three newly acquired power yachts, joined the fleet. In May 2015 the company launched Star Breeze and Star Legend. The power yachts, with a capacity of 212 guests each, double the size of Windstar's fleet, making the company the market leader in small ship cruising with 300 or fewer passengers, with a total of 1,242 berths. Windstar Cruises is a part of Xanterra Parks & Resorts®, which is known for its "Legendary Hospitality with a Softer Footprint," Xanterra's entities include lodges, restaurants, tours and activities in national and state parks, as well as resorts, a cruise line, railway and tour companies.
For more information including rates and itineraries, contact a travel professional or call Windstar at 800.258.7245, or visit http://www.windstarcruises.com.
###