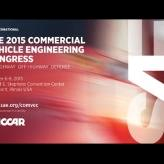 Mr. Gronbach is an internationally respected demographer who has been able to forecast societal, commercial, economic, cultural and political phenomena with uncanny accuracy
WARRENDALE, Pa. (PRWEB) September 30, 2015
Kenneth W. Gronbach, President of KGC Direct, LLC, and author of the current best-selling book "The Age Curve: How To Profit from the Coming Demographic Storm," will provide the Breakfast Keynote Address on Thursday, Oct. 8 during the SAE 2015 Commercial Vehicle Engineering Congress.
Mr. Gronbach's speech, which will begin at 8 a.m., is sponsored by PACCAR; the Keynote Breakfast is sponsored by Caterpillar and Oshkosh.
Mr. Gronbach is an internationally respected demographer who has been able to forecast societal, commercial, economic, cultural and political phenomena with uncanny accuracy. His unusual blend of marketing savvy and common sense demography, based on twenty years of proprietary demographic study, set him apart. His first book, "Common Census, the Counter-Intuitive Guide to Generational Marketing" was released in 2005. His 2011 book "Decades of Differences, Making it Work" is a comprehensive guide to coping with three generations in the workforce.
The SAE 2015 Commercial Vehicle Engineering Congress will be held Oct. 6-8 at the Donald E. Stephens Convention Center in Rosemont, Ill. Executive Leadership for the event is provided by PACCAR.
For more information on the event, visit http://www.sae.org/COMVEC. To request media credentials, email pr(at)sae(dot)org or call 1-724-772-8522.
SAE International is a global association committed to being the ultimate knowledge source for the engineering profession. By uniting over 137,000 engineers and technical experts, we drive knowledge and expertise across a broad spectrum of industries. We act on two priorities: encouraging a lifetime of learning for mobility engineering professionals and setting the standards for industry engineering. We strive for a better world through the work of our philanthropic SAE Foundation, including programs like A World in Motion® and the Collegiate Design Series™.