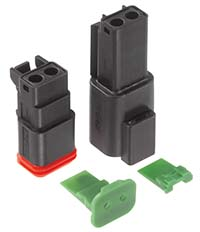 Wilmington, MA (PRWEB) October 08, 2015
Heilind Electronics, the largest distributor of interconnect products in North America, has added Molex ML-XT™ Sealed Connector System to its portfolio of products available for harsh environments. With market-leading high-performance seal technology, it is a cost-competitive solution offering superior reliability for critical vehicle-wiring applications in harsh environments.
The ML-XT employs an innovative two-shot molding seal technique to achieve IP68 rating with SAE J2030 and IP69k product validations underway. The solution provides drop-in replacements for industry-standard connector systems used in critical marine wiring applications in harsh environments, including salt water. The cost-competitive ML-XT accommodates a vast range of sensor technologies and low circuit count functions.
The ML-XT system has been initially released in a two-circuit version with 9 color-coded housings and two cable range options. It utilizes Molex proven XRC™ terminals with current ratings up to 13.0 A, which supports tooling widely used at harness makers. With fewer component parts than existing versions on the market, the ML-XT system helps reduce inventory levels for harness manufacturers, simplify assembly and lower final assembly costs.
Applications include: commercial vehicle, automotive, sealed applications, military vehicles, marine and aeronautical.
The ML-XT™ Sealed Connection System is presently stocked and currently available for purchase. For more information, visit heilind's website, view our current inventory or product specifications here, download the datasheet, or call (888)-411-3672.
About Heilind Electronics
Founded in 1974, Heilind Electronics, Inc. (heilind.com / heilindasia.com) is one of the world's leading distributors of connectors, relays, switches, thermal management and circuit protection products, terminal blocks, wire and cable, wiring accessories, and insulation and identification products. Heilind has locations throughout the U.S., Canada, Mexico, Brazil, Singapore, Hong Kong and China. Follow Heilind on Facebook at facebook.com/Heilind and on Twitter at twitter.com/Heilind.
About Molex, LLC
Providing more than connectors, Molex delivers complete interconnect solutions for a number of markets including: data communications, telecommunications, consumer electronics, industrial, automotive, commercial vehicle, aerospace and defense, medical, and lighting. Established in 1938, Molex is a global company with a presence in more than 40 countries. The Molex website is molex.com. Follow us at twitter.com/molexconnectors, watch our videos at youtube.com/molexconnectors, connect with us at facebook.com/molexconnectors and read our blog at connector.com.