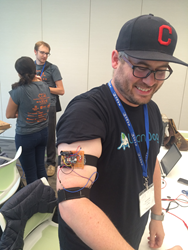 We are in awe of how the community embraced this event," said James Krouse, Director of Marketing & Communications at Nesco Resource and one of the event's organizers. "The participants poured their hearts and souls into their projects"
Cleveland, Ohio (PRWEB) October 01, 2015
The Cleveland Medical Hackathon(#clemedhack) presented by Nesco Resource climaxed Sunday with three winners chosen out of 21 competing teams. Doctors, nurses, patient advocates, researchers, scientists, programmers, entrepreneurs, engineers, and developers worked for over 24 hours on projects leveraging technology to solve big challenges in the world of medicine, health and wellness. More than 175 participants joined with mentors from medical, law, tech and public health fields to identify problems, pitch ideas, share expertise, and ultimately form teams to find solutions.
The event was held at the Global Center for Health Innovation in downtown Cleveland and was developed as a partnership between Cleveland Clinic, University Hospitals, The MetroHealth System, BioEnterprise, Nesco Resource, FlashStarts and Case Western Reserve University.
"We are in awe of how the community embraced this event," said James Krouse, Director of Marketing & Communications at Nesco Resource and one of the event's organizers. "The participants poured their hearts and souls into their projects and have presented some fascinating solutions that address major issues of healthcare today. We really feel that this weekend's success reflects Cleveland's strengths in medicine, education, engineering, and also the community's spirit of creativity and innovation."
Twenty-one teams competed for the Nesco Resource Innovation Award and cash prizes of $3,000, $1,500, and $500 for first, second and third place finishes. The winners are:
Overall Winner: IQ Sensor Solutions:
The IQ Sensor team set of to measure blood pressure through a compact wearable device that a patient could easily wear on the arm. This device's flexible sensor mimics a traditional Sphygmomanometer (blood pressure cuff) reporting to an app the patient's real time blood pressure. The idea was centered on mounting the sensor, along with the electronic components, on the bicep and without the need of an airbag to read the patient's blood pressure. The five members of the team possessed a mix of industrial, medical and software experience. They included Mike Hoffman (Cleveland Clinic), Kyle Reissner (Rockwell Automation), Kyle McKee (LeanDog), Dr. Morteza Vatani (The University of Akron) and Ryan Jefferis (biomedical engineering grad student from Cornell University).
Many medical and technology mentors from the Cleveland Clinic (Dr. Mohit Gupta), Validic and Emanate also assisted the mission. Within the 24-hour period, the team successfully produced a working prototype where the flexible sensor communicated its signal to an iOS app.
Dr. Morteza Vatani's recently formed company, Smart 3D Solutions LLC, is excited to move this concept forward. He believes the Medhack experience will help the company raise money not only for this application, but other applications in the flexible sensor area of wearable electronics.
2nd Place: NEO+natal
NEO-natal is a new approach to combating high infant mortality in many inner-cities. Recognizing that the best way to curb the problem is by focusing limited resources on the mothers with the highest probable chance of having a child die, the team developed a unique risk profile for mothers based on publically available demographic and geographic data correlated against clinical/medical research. With this new statistical tool, the team developed a short questionnaire that could be used by a community health worker to assess the risk level of a mother almost instantly.
This process was bundled into a tablet app that seamlessly integrates the survey (and results) with the United Way 2-1-1 Hotline of community services and a repository of known beneficial behavior changes. This empowers community health worker to take concrete actions to address risks to potentially save an unborn child's life. Additionally, the app assigns each mother and community worker a unique pin number so to coordinate follow up appointments and provide accountability. A demo can be seen here: https://invis.io/ZF4CBWEW7
Team members included: Eugene Malinskiy (Founder & CEO, Dragon ID), Ilya Malinskiy (Lead Engineer, Dragon ID), Haylee Barbo (Account Development Rep, Arrow Electronics), Daniel Dudley (COO, Dragon ID), Brad Roskoph (Dragon ID and CSU Biomedical Engineer), Brittany Johnson, (Senior Research Associate for the Healthcare Initiative at the University of Michigan) and Jessica Ice (Research Analyst, Federal Reserve Bank of Cleveland).
3rd Place: The Watershed Health Project.
This project examined The Cuyahoga County Board of Health (CCBH) paper-based process of monitoring water quality to prevent the transmission of waterborne diseases in streams, rivers, and beaches. The team designed a new mobile application that would make water monitoring more efficient and its communication more effective.
The prototype mobile app created an electronic form that inspectors can fill out at the watershed, reducing duplicate data entries and reducing response time from 30 days to one day. Both street view and earth view of locations are given to the users, giving CCBH inspectors the ability to more accurately find location in remote areas. This management tool will lead to more efficient reporting of potential communicable disease risks, allowing citizens to enjoy the watershed and protect our vital drinking water resource.
The team consisted of Carl Preusser, Team Lead/Subject Matter Expert (Cuyahoga County Board of Health); Chris Kippes, Subject Matter Expert (Cuyahoga County Board of Health); Fred Longo, Developer (Vitamix); Tasha Markovich, Design Thinker/Developer (Masters Student UX Design at Kent State); Greg Carpenter, Design Thinker/Info Sec Analyst, (Federal Reserve Bank of Cleveland).
Additional Awards
Community Health Awards went to the following teams:
HealthyMomHealthyBaby
This team built a user-friendly web application that assesses risks to the health of a woman, especially those that influence pregnancy, childbirth and infants. The software is simultaneously an assessment and educational tool, designed to link women to resources and services they need. Even a small reduction in the rate of risks like smoking, alcohol use, and family violence can have a dramatic effect on the overall mortality.
Reaching Patients
This project uses a minimalist smartphone with just one app, allowing discharged patients to easily stay in touch, access community resources, track care plan targets, and request calls or appointments.
CommunityHealthPulse.
An interface designed to allow users to examine trends in health indicators in social media platforms, in the City of Cleveland, using analytics. The interface will also allow for predictive analytics, along with linking social media data to health population data.
Special Validic Prize
In addition, Validic also offered a special prize to a team using its data. The prize went to Team PEZ: Patient Experience Zealots for their project PainPal:
Through a combination of data collected from clinical assessment, wearable devices, smartphones, 3D motion capture, and valuable data from partners like Validic, PainPal builds a robust understanding of chronic pain with actionable insights, and can support healthcare providers to find optimized therapeutic and adjunctive therapies that can better address their patient's pain. Using existing tools such as EMR/EHR, as well as a patient and HCP facing interface. PainPal will help a patient and their HCP quantify as well as manage pain and deliver a measurable impact on chronic pain.
Team Members: Anne Daly, Robert Wainwright @CancerRx, Danielle Decatur @DaniDecatur, Gary Monk @garymonk, Matt Carideo @Caridisize, Vinny Cerpa (all from H4B @H4BChelsea ), Dr. Mohit Gupta (Cleveland Clinic)
Judges for the event included:

Brian Donley, Chief of Staff, Cleveland Clinic
Don Reichert, CIO MetroHealth Systems
Gregory Hicks, Director, Innovation , University Hospitals
Charles Stack, Co-founder, CEO Flashstarts
Jeff Epstein, Director, Cleveland Health-Tech Corridor
Sunnie Southern, Viable Synergy LLC
Michael DeAloia, Columnist for the Plain Dealer, Tech Leader
Chris Sklarin, Vice President, Edison Partners
Kurt Stange, Professor, CWRU School of Medicine
Jim Weisman, Vice President, BioEnterprise
Danielle Price, Program Manager, Community Engagement, Neighborhood Connections
Susan Bernat, GM, Technology & Communications, Cleveland Clinic Innovations
The Cleveland Medical Hackathon was presented by Nesco Resource, a national recruiting and staffing agency specializing in IT and Engineering and headquartered in Northeast Ohio. Major sponsors of the event were AT&T and Cleveland Clinic. Corporate support came from Sectra, Hyland Software, ScriptPro, CoverMyMeds.com and the Cleveland Health-Tech Corridor. Organizing partners included the Cleveland Clinic, University Hospitals, The MetroHealth System, BioEnterprise, Nesco Resource and Flashstarts. Public Health & Wellness partners included Case Western Reserve University School of Medicine and Ingenuity Cleveland.
Organizers of the Medhack are seeking to confirm a date for next year's competition, inspired by the success of the inaugural event. For more information, visit http://www.clevelandmedicalhackathon.com.
For questions regarding the event, please contact James Krouse, 216.650.4942, jkrouse@nescoresource.com