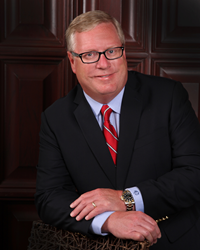 Tony S. Goddard
WARRENDALE, Pa. (PRWEB) October 01, 2015
Tony S. Goddard, Executive Vice President and Chief Operating Officer with GEMCOR, West Seneca, N.Y., has won the SAE International Thomas H. Speller Award. He accepted the award during the SAE 2015 AeroTech Congress and Exhibition, held recently in Seattle.
Established in 1983, the award recognizes unusual achievements of an individual who, through dedicated service, tireless efforts, high ideals, and vision, contributed significantly to the implementation of manufacturing processes and methodologies in the dedicated discipline of automated fastening machines and their applications.
Thomas H. Speller founded GEMCOR in 1937, when the company invented the automated fastening process to support aircraft production during World War II.
Having served his apprenticeship and attending college with a prominent machine tool builder in the United Kingdom, the company then moved Mr. Goddard to the United States in 1987. Mr. Goddard joined GEMCOR in 2000 as Director of Sales & Marketing overseeing sales, marketing and service support efforts worldwide. In 2004, Mr. Goddard participated in a management buyout of GEMCOR, becoming an owner of the company. Since that time, he has been instrumental in significantly growing the company's business with a special emphasis on his international activities in Brazil, China and Europe. He has been a spearhead in the transition from hydraulic and early promotion of GEMCOR's all-electric fastening technology which today has become an industry-wide standard.
Mr. Goddard is a frequent guest speaker at various conferences and has written a number of articles published in various trade magazines. He also spends considerable time educating and promoting the use of automatic fastening methods to new and developing users. Mr. Goddard is a member of SAE International. He chaired Aerofast in 2013; chaired numerous Aerofast sessions over the years, and has written and presented technical papers. He currently serves as AAFC N.E. Area Director.
Goddard resides in Tully, N.Y.
SAE International is a global association committed to being the ultimate knowledge source for the engineering profession. By uniting over 137,000 engineers and technical experts, we drive knowledge and expertise across a broad spectrum of industries. We act on two priorities: encouraging a lifetime of learning for mobility engineering professionals and setting the standards for industry engineering. We strive for a better world through the work of our charitable arm, the SAE Foundation, including programs like A World in Motion® and the Collegiate Design Series™.
For more information on Goddard, please contact Scott Vanderkooi at GEMCOR at svanderk(at)gemcor(dot)com.
To learn more about the Thomas H. Speller Award, please contact pr(at)sae(dot)org.