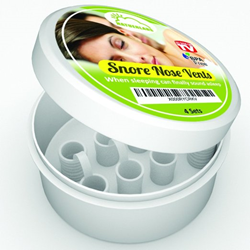 Los Angeles, CA (PRWEB) September 30, 2015
MCC Global Trading is now marketing a device that the company says is very effective at helping people stop snoring in a natural way. The device is the Naturelabs Stop Snoring Ring Set and it is basically nose vents that help prevent snoring. According to a company spokesperson, "We strive to offer customers the best and latest products to help them make their lives easier and better, and this ring set does both."
The product contains four anti-snoring devices with two different sizes in two different styles. The company is billing this device as a natural snoring solution and mentions in its marketing material that those who snore can use this device in lieu of chemical or even herbal snoring aids.
The snoring ring fits over a user's nose and widens the nasal passages to allow air in and out, which facilitates better and easier breathing. One advantage that users have with this device is that they can use it while sleeping, so the device is effective not only for snoring, but sleep apnea and CPAP relief. Users report that the device helps them sleep peacefully and more soundly.
The set of rings comes in a travel case so that users can store the rings safely during the day and are made of medical grade silicon that slips easily into the nose and ensures a tight fit. Once advantage users have is that the rings are designed for use when they are sick. Often, devices like these have to be put aside during times of illness or heavy congestion, but these rings work just as well even during severe congestion.
The Stop Snoring Ring Set is currently available on Amazon.com and is offered with a standard money back guarantee. The product also qualifies for Amazon's free shipping on orders over $35.00.
MCC Global Trading is a distributor of household and kitchen supplies to online retailers across the United States. To learn more about the company, visit their website at http://www.mccglobaltrading.com or email to speak with a company representative.
###