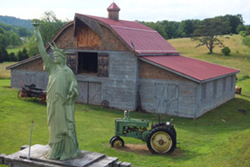 This year's beautiful photos, and new surprise coupons inside will please our customers
Lennon, Michigan (PRWEB) September 30, 2015
Steiner Tractor Parts is pleased to announce the winners of their 2016 calendar photo contest held this summer. Choosing the best entries from a field of over 1,000 submissions was no easy task. The photographers selected to appear in the calendar are each awarded a cash prize along with free calendars and of course bragging rights for the whole year among other tractor enthusiasts.
This is the 2nd year that Steiner Tractor Parts has held this contest and produced a calendar. The 2016 calendar will feature all of the winners chosen and will be distributed even more widely than last year. The company received praise and feedback on the calendar last year and tweaks have been made based on customer feedback. The 2016 calendar format is larger than last year with more room for recipients to write in activities. The contest drew even greater participation this year with lots of great seasonal photos and every major brand of classic North American tractor represented.
The 2016 Tractor Calendar will feature even more surprises inside as mentioned by Suzette Thomas the Digital Media Specialist at Steiner Tractor Parts. "The number of participants this year exceeded expectations and is very exciting. This year's beautiful photos, and new surprise coupons inside will please our customers as well," shares Suzette Thomas.
Steiner Tractor Parts plans to have the calendars available for sale on their website in early December. The winning photos are currently view-able on the corporate website along with some information from the tractor owners and photographers about the photos. Steiner Tractor Parts plans to repeat the contest next year. They encourage people to sign up for their email newsletter to stay informed. as an added bonus, email subscribers are eligible fora monthly raffle for $200 Steiner Gift Card.
About Steiner Tractor Parts
Steiner Tractor Parts specializes in restoration quality parts for American made farm tractors. They are an integral part of a larger community committed to preserving our agricultural heritage. Their role is providing obsolete components for Allis Chalmers, Farmall, International, Ford, John Deere and Massey Ferguson among others. Areas of specialty include manifolds, wheels, lights, switches, mufflers, battery boxes, fenders, steering wheels, carburetors, gauges, and more. They have a state of the art website and ship worldwide every day. To see the full product listing and E-Catalog, visit online at http://www.steinertractor.com. Also, be sure to check out their selection of free tractor repair videos at http://www.steinertractor.tv.