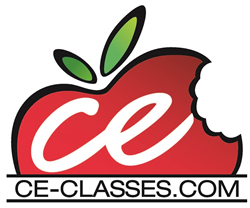 We started providing education 15 years ago with 9 people in a classroom. Since then we have helped educate over 20,000 people.
(PRWEB) September 30, 2015
CE-Classes.com is celebrating a significant milestone as the company has recently provided education to over 20,000 people. This national company offers a broad range of Continuing Education (CE) courses that are specially designed to meet the needs of behavioral health professionals needing to renew their license and or continue to advance their education. The number of health care professionals that the company serves is an indication of the quality of education that it provides.
Company president Ron Black has developed comprehensive training and supervision programs for health care professionals and interns who need continuing education in various disciplines such as clinical social workers, professional counselors, psychologists, nurses, school psychologists, addiction professionals, CAPs, marriage and family therapists and other health care professionals. Courses can be found on a variety of subjects, including ethics, laws and rules, depression, supervision, and domestic violence.
"We are very excited to have been able to help so many people" said Ron Black, president and of CE-Classes.com. "Helping people to maintain their professional licenses in the comforts of their homes is very rewarding. It's hard to imagine that 15 years ago we started out by providing a workshop to 9 people and now we have provided education to over 20,000 people."
Employee Training. During the course if it's growth, CE-Classes.com has expanded its services to provide education for employees of substance abuse treatment centers to comply with state licensing requirements and to fulfill obligations for national accreditations such as JCAHO and CARF.
About CE-Classes.com
CE-Classes.com is committed to helping individuals earn continuing education credits in the most efficient, easiest and most cost-effective way possible. For over 15 years, CE-Classes has provided online courses, live seminars and webinars that are approved for various health care professionals for continuing education credits by a number of state and national boards and also serves a wide range of licensed professionals such as mental health counselors, therapists, psychologists, nurses and social workers. Individuals are given the option to choose between purchasing one or two courses or the Unlimited Online Courses Package for a year.
CE-Classes.com possesses multiple approvals such as the Association of Social Work Boards (ASWB), and National Association of Alcoholism and Drug Abuse Counselors (NADACC). The courses offered are accepted nationwide.