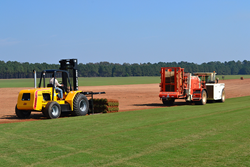 Super-Sod of Hendersonville's farm manager, Dave Shaffer, will explain sod harvesting alongside an on-farm demonstration
Asheville,NC (PRWEB) October 18, 2015
Super-Sod of Hendersonville, in coordination with the NC Cooperative Extension, welcomes the local media to visit their tall fescue farm on October 20th. This event was put together by Kerrie Roach at the Henderson County Extension office to highlight the commercial turfgrass industry in western North Carolina. The tour will begin at 9 am at Super-Sod's Mills River location at 583 Jeffress Road. All reporters, garden writers, bloggers, TV reports, photographers, and videographers are invited to attend.
Super-Sod of Hendersonville's farm manager, Dave Shaffer, will explain sod harvesting alongside an on-farm demonstration of their state of the art Trebro Autostack sod harvester. They will also explain the story behind Soil3, their organic humus compost sold in a BigYellowBag. After the events at Super-Sod, there is a second site to visit at Turf Mountain Sod.
Super-Sod is a family-run business that employs experts in turf and horticulture. One of their most popular products has been their Soil3 organic compost, delivered in a cubic yard BigYellowBag, which they make partially from composted grass clippings from their sod production. Super-Sod continues to develop new garden products, foster gardening and landscaping, and always seeks to improve their farming practices, technology, environmental stewardship, and employee knowledge.