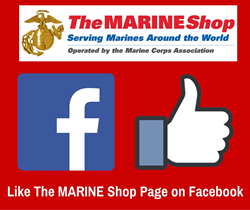 Quantico, Virginia (PRWEB) October 02, 2015
The Marine Shop, the Marine Corps Association & Foundation's retail component, activated their retail oriented Facebook page on Thursday, October first. The new Facebook page will feature frequent special promotions with exclusive sales, and discounts offered only to visitors to the Facebook site. The site will also feature contests, flash sales and alerts about authors holding book signings at the Quantico, Virginia and Camp Lejeune, North Carolina locations.
Dedicated to support Marines and friends of the Corps, The MARINE Shop and its online component, http://www.marineshop.net, features the finest Marine uniforms and accessories available, along with an extensive selection of apparel and professional reading for Marines.
The Marine Corps Association & Foundation is the preeminent association and foundation for all Marines and friends of the Corps dedicated to the development and recognition of professional excellence and expanding the awareness of the rich traditions, history, and esprit of the United States Marine Corps. The MCA&F advances leadership and recognizes excellence by hosting award ceremonies, facilitating Commanders' Forums, delivering Commanders' Unit Libraries, publishing and distributing the Marine Corps Gazette and Leatherneck, and by providing quality uniforms, accessories and professional reading at the best value. The MCA&F understands and respects the achievements and sacrifices made by Marines and their families while serving this great nation. For more information, visit http://www.mca-marines.org