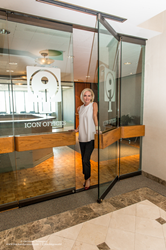 ...Our new space is strategically located directly across the street from both City Hall and the Civil District Courts..
New Orleans, LA (PRWEB) October 02, 2015
Since April of this year, Icon Offices has been the only locally owned and operated executive suites center in the city of New Orleans. Now, the independent Icon Offices moves to expand and improve, with a superior new office location and newly-announced global partnerships.
Icon Offices has relocated to a new space on the 20th floor of the Orleans Tower. "The new space finally offers the superior views that our old location on the sixth floor of a smaller building simply could not," notes operator Rachel Sonn. The view is not the only improvement, however. "We found that there were many potential clients who wanted that Poydras Street address; its a well-known street in the business world," Sonn says. "And our new space is strategically located directly across the street from both City Hall and the Civil District Courts - thus making us ideal for those who work with the City of New Orleans or practice law." The new space is also larger and has a more modern, sleeker feel.
Along with their improved location, Icon Offices is also moving to attract more global business by partnering with Alliance Business Centers and Virtual Offices. Through this partnership, Icon Offices will now be able to offer over 650 locations worldwide as options for their clients. "We are thrilled about this partnership!" says Sonn. "Each one of our full time clients automatically receives 8 hours per month of free meeting room use at any partner location. So when our clients are pitching an idea in Atlanta, Georgia -- or even in Zurich or Istanbul -- they are able to use professional meeting rooms at no charge to them."
Icon Offices will also offer easy access to the Alliance network of virtual offices, which allows part time workers to use conference rooms, phone services, and mailing addresses all around the world. "A virtual office network like this is also huge for us," says Sonn. "Before, we offered mail services and phone answering to local customers only. But now, if a customer wants to open locations quickly in a number of places, we have options for them. It allows us to work with more people who we might otherwise lose to larger 'chain' operators such as Regus."
To learn more about Icon Offices, visit http://www.iconofficesneworleans.com.