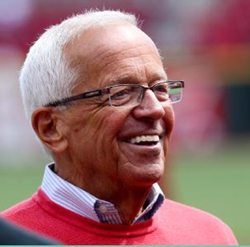 When I heard about the Fearless Frontline Leader Awards program I was really excited to join Definity and the other sponsors to help promote such a worthy cause.
Cincinnati, Ohio (PRWEB) October 02, 2015
On Tuesday, October 20, 2015 the Fearless Frontline Leader Awards Celebration will take place at Great American Ball Park. Honorees from the manufacturing industry will be recognized for their demonstration of excellence, empathy, respect, and humility both at work and at home. New to this year's ceremony is the addition of Cincinnati Reds' announcer Marty Brennaman as the featured guest speaker.
"We have a really great evening planned at the ball park, made even better by the addition of Mr. Brennaman," said Robynn Anton, Definity Partners Vice President of Marketing. "Marty Brennaman is a Cincinnati legend and we are thrilled that he will be joining us to share his personal and professional experiences with our honored frontline leaders and guests."
The Fearless Frontline Leader Awards celebrate the day-in-day out contributions of the frontline leaders who fuel the manufacturing industry. Nominations are reviewed by a panel of judges and nominees and recipients are recognized at an annual awards celebration and dinner. The dinner is a ticketed event open to the public and this year's festivities at Great American Ball Park include a cocktail hour on the field and in the dugout, ball park tours and the chance for attendees to take a swing in the Reds batting cages.
"When I heard about the Fearless Frontline Leader Awards program I was really excited to join Definity and the other sponsors to help promote such a worthy cause. Living in Cincinnati most of my life, I know that manufacturing supports the economic development of Cincinnati and the surrounding communities. Anything that I can do to help thank those that work so hard every day to ensure economic prosperity whether they are from Cincinnati or not, I am happy to acknowledge and join in on celebrating their successes," states Brennaman.
The 2015 Fearless Frontline Leader Award is proudly sponsored by Definity Partners and other local and national organizations including the Cincinnati Chamber of Commerce, the European American Chamber of Commerce, the Association for Corporate Growth (ACG), Value Added Packaging of Clayton, Ohio, AbeTech of Liberty Township, Ohio, HPWP of Atlanta, GA, and Upside Innovations & Start Something Bold of Cincinnati.
About the Fearless Frontline Leaders Award:
The Fearless Frontline Leader Awards were initially created to celebrate the memory of Mike Stilwell. Stilwell was a veteran of the manufacturing industry, leading a team at Norris Screen and Manufacturing before his tragic and untimely death due to a four-wheeler accident in 2014. To honor the Fearless Spirit that Mike embodied both on the frontline and with his family the Fearless Frontline Leader Award was established in 2014. For more information visit http://www.fearlessaward.com.
Last year's recipients include:
Richey Johnson, Southeastern Mills "The High Expectations Leader"
Richey Johnson is a model example of a fearless leader who inspires his team with high expectations and accountability. On the forefront of changing an entire company culture embedded with years of traditional management practices, he jumped in without hesitation or fear. Johnson led his team to continuously out-perform some of their own highest targets and expectations by interacting in a fair, caring, yet challenging manner.
Greg Bartley, Value Added Packaging "The Wise Frontline Lead Operator"
Only wanting to bide his time until retirement, Greg Bartley quickly realized he had the gift of leadership when he joined the team at Value Added Packaging. This realization changed his views entirely. His humbleness and integrity transformed him into an exceptional frontline supervisor. Nicknamed "Big Daddy G" by the VAP team members, Bartley leads and inspires his frontline to excellence by sharing his 30 years of manufacturing experience, knowledge, and strong work ethic.
About Definity Partners:
Definity Partners is a leading business improvement firm that works directly with organizations to implement change, delivering rapid results through the Run Improve Grow® (RIG) business methodology developed by Ray Attiyah and his team at Definity. The RIG business model approach is to simplify, standardize and automate your organization's operations through frontline leader empowerment, process improvement, education, technology optimization and cultural change. Definity Partners works with organizations across the U.S. and Mexico with district offices in Cleveland, Columbus, and Atlanta. To learn more, visit DefinityPartners.com or call (513) 381-7200.
###