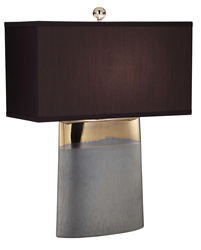 A trend-forward, market-ready table lamp that we expect will resonate with consumers and designers alike.
Los Angeles, California (PRWEB) October 06, 2015
Lighting retailer Lamps Plus will unveil the Moonrise Noir table lamp by Currey & Company on October 19, 2015, during the High Point Fall Market. Available in limited quantities exclusively through Lamps Plus, the lamp will be for sale at LampsPlus.com directly after the product unveiling. The lamp will retail for $540.00.
The Moonrise Noir table lamp is made entirely in the USA and features a porcelain base crafted by local artisans in Austin, TX. This stunning two-tone matte graphite and sleek bronze finish base is topped with a black rectangular shade for added drama. With its clean lines and earthy palette, the Moonrise Noir lamp reflects a trend toward fundamentals in design today.
"We carefully reviewed dozens of designs to make sure the Moonrise Noir was both unique and on-trend for its debut at High Point. We feel confident that the design, both in quality and high-end finishes, will become a designer favorite," says Brownlee Currey, President of Currey & Company. "We're thrilled to have Lamps Plus as a partner and look forward to continued growth of our product line through their online presence."
Lamps Plus has carried Currey & Company lighting since 2007, and currently sells nearly 200 designs online. The Moonlight Noir partnership highlights the lighting retailer's commitment to making premium design products available to the everyday consumer.
"The Currey & Company name is synonymous with quality and sophisticated design. This made the partnership easy, as we always look to leverage brands that elevate the Lamps Plus product selection," explains Dennis Swanson, CEO and President of Lamp Plus. "In working closely with a preferred vendor like this, we are able to combine their expertise in design with our knowledge of and access to the consumer. The result is a trend-forward, market-ready table lamp that we expect will resonate with consumers and designers alike."
This is the third such design partnership between Lamps Plus and a noted brand in recent years; previous partnerships have been with Jamie Young & Co. in spring 2014, and Robert Abbey in fall 2013. Each partner was hand-selected by Swanson on the basis of the core traits it shares with Lamps Plus, and as such, each is a family-owned company with a demonstrated commitment to style, quality and value.
The Moonlight Noir table lamp will be unveiled during leading home furnishings trade show High Point Fall Market, at the Currey & Company showroom (IHFC M110) from 3 to 5 p.m., October 19, 2015. Cocktails and light hors d'oeuvres will be served.
The Moonlight Noir table lamp will also be featured alongside other Currey & Company designs in a Pinterest sweepstakes from October 12-25, 2015. To enter, participants should follow Lamps Plus and follow the instructions on the sweepstakes pin at https://www.pinterest.com/lampsplus/.
ABOUT CURREY & COMPANY
Currey & Company was founded by Suzanne and Robert Currey in 1988. For over 25 years, the company has been known for its spirit of creativity, use of natural materials, fine attention to details, and time-honored craftsmanship. Product designs influenced by authenticity, design history and timely trends are all part of the creative process at Currey & Company.
Today, the product line consists of chandeliers, wall sconces, table and floor lamps, decorative accessories, rugs, furniture, upholstery and garden furniture. The company has International, Hospitality and Contact Departments, in addition to permanent showrooms in Atlanta, Dallas, High Point, and our new showroom in New York. Currey & Company owns factories in the Philippines and China with an office in Hong Kong.
ABOUT LAMPS PLUS
For more than 30 years, Lamps Plus has been synonymous with excellence in the retail lighting industry. Established in 1976, Lamps Plus is the nation's largest specialty lighting store, with dozens of locations throughout the western United States. LampsPlus.com has been named a Top 20 Housewares & Home Furnishings e-tailer for three years running and a "Hot 100 World's Best Retail Website" in 2013-2014 by Internet Retailer Magazine. Together with its retail locations, the company serves customers nationwide with the largest selection of functional and decorative lighting fixtures, accessories, furniture and home decor. This selection includes hundreds of designs, ranging from traditional chandeliers to the latest in home decor, available exclusively from Lamps Plus. The company also holds several patents for innovative lighting. Services offered include in-home lighting consultations, in-store workshops and installation from expert, licensed electricians. American Lighting Association certified designers are available to offer product recommendations and advice in all our stores, by phone or online at LampsPlus.com. The Lamps Plus family of websites also includes 55 Downing Street and Lamps Plus Open Box. Visit the official Lamps Plus website: LampsPlus.com.