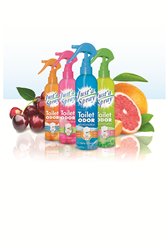 The 21st Century solution to stinky bathroom odors.
Los Angeles, CA (PRWEB) October 02, 2015
Let's face it people, it is a fact of life that everyone poops - and it stinks! This natural human function occurs three times daily to three times weekly for most people. However, going number two in public restrooms, at a friend or relatives house, or even a home bathroom shared with others can cause unnecessary anxiety and embarrassment.
The problem is, how do you eliminate the embarrassing toilet odor left behind? Traditional bathroom spays don't work as they only mask stinky odors permeating in the air with toxic chemicals that smell like a rotting swamp of flowers. The solution is Just' a Spray, the ultimate before-you-go toilet spray, made with a blend of natural essential oils. Just' a Spray will also block that strange, unpleasant scent coming from your urine after eating asparagus.
Traditional air fresheners currently used in most homes have been in existence for close to 60 years and haven't changed much over time. Of even greater concern, many of today's air fresheners contain dangerous carcinogens, volatile organic compounds and known toxins such as phthalate esters and benzene in their formulas.
For this very reason, Just' a Spray was created. Just' a Spray is a premium eco-responsible product that eliminates toilet odors with natural essential oils creating a much more pleasant bathroom experience. Beginning October 1, 2015, Just' a Spray USA will launch a 30-day Kickstarter campaign for the continental U.S.
How Does It Work? The before you go spray, creates a barrier on the surface of the water that traps and eliminates bathroom odors. Just' a Spray prevents the odors from escaping the toilet with a few sprays directly on the toilet water. Your smelliest secret is safe thanks to our amazing blends of natural essential oils.
With four amazing fragrances (Key Lime, Cherry, Citrus and Baby Powder) and a range of sizes for travel and home, Just' a Spray will eliminate the toughest toilet odor and making every bathroom you visit a Stink-Free Zone.
"Toilet odor is a common problem that every household experiences. Just' a Spray was developed specifically to prevent bathroom odors before they happen. No more toxic chemical sprays to mask the odor. We believe that Just' a Spray is the best solution to safely and effectively block embarrassing bathroom odors," said Ron Labuzan, CEO (Chief Eliminator of Odor) of Just' a Spray USA.
Our stylish bottle design makes Just' a Spray a tasteful addition to any bathroom décor, home or office. Our eco-responsible natural ingredients are safe for all plumbing and septic systems.
Just' a Spray is available in 7.43 oz. (400 Flushes), 3.88 oz. (200 Flushes), 1.89 oz. (100 Flushes) and .3 oz. travel spray (25 Flushes). During the Kickstarter campaign, Just' a Spray USA will be offering a range of products at reduced promotional prices for 30 days. Go to our Kickstarter page to purchase Just' a Spray: https://www.kickstarter.com/projects/172280628/just-a-spray-the-best-personal-toilet-odor-elimina
Source: Just' a Spray USA
Website: http://www.justasprayusa.com
Facebook: https://www.facebook.com/JustaSprayUSA
Twitter: https://twitter.com/JustASprayUSA
Instagram: https://instagram.com/justasprayusa
Pinterest: https://www.pinterest.com/justaspray