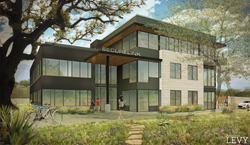 "LEVY's design for our headquarters reflects our company's mission of having fun and creating value over the long run. Working in a space that is equal parts fun and functional brings out the best in our team..." - Jeff Swearingen, CEO SecureLink
Austin, TX (PRWEB) October 02, 2015
Today LEVY Architects and developer The Emerson Group announced the new corporate headquarters office for Austin-based, software company SecureLink to be located at 11402 Bee Cave Road. The office will be the latest entrant in the luxury, modern, corporate office space as a world-class destination. The three-story, 22,703-square-foot building will feature high-end office space with stunning 360-degree views of surrounding Texas Hill Country. The tenant-owner, SecureLink, will officially move its Austin-based employees into its new headquarters in the summer of 2016. The building will be named SecureLink.
The SecureLink building pushes the boundaries of contemporary design and amenities, and is one of the most exciting new developments in the southwest office market. "This is a challenging time to get a high-end project off the ground in a timely manner, let alone within budget, " according to developer, Lee Combs, president of The Emerson Group, "and our success is attributable to the great team we've assembled to complete this project. The fact that owner (Jeff Swearingen, CEO SecureLink) did not have to compromise on his design vision speaks to the talent and the discipline the LEVY team showed in managing this project from start to finish. As a developer, you could not ask for more from an architecture firm and project partner."
The design elements for SecureLink's headquarters will include accommodations such as a two-bedroom apartment for visiting employees from its Costa Rica office, a state-of-the-art, on-site commercial kitchen with adjacent high-end dining areas with views and balcony space. Employees will also enjoy multiple large meeting spaces and a mix of offices, open workspace, huddle rooms, quiet rooms, lounges and conversation booths. In addition, the building supports wellness amenities such as a gym, a barbeque smoker and outdoor recreation area. The highlight may be the third floor, which features a virtual reality area with golf simulator and space for a ping-pong table and other games.
"Choosing LEVY Architects was a great decision for us," said Jeff Swearingen, co-founder and CEO of SecureLink. "LEVY's design for our headquarters reflects our company's mission of having fun and creating value over the long run. Working in a space that is equal parts fun and functional brings out the best in our team and helps us recruit and maintain the very best employees in Austin, which creates value for our customers."
About LEVY Architects, PLLC
LEVY Architects PLLC is an Austin-based full service architecture firm with expertise in master planning, land planning and sustainable design for Commercial, Corporate, Hospitality, Restaurant, Retail, Multi-Family, Residential + Ranch Homes. Marrying the aesthetic with the pragmatic nature of all architecture projects, LEVY Architects is noted for exceeding design expectations while also keeping the client's bottom line in check. LEVY clients also enjoy the best ratio of talented and experienced architects to project ratio in the industry. For more information, visit http://www.levyarchitects.com.
About The Emerson Group, LLC
The Emerson Group, LLC is a full-service commercial real estate firm located in Austin, Texas, specializing in development, management and brokerage since 1995. The firm has extensive experience with office, retail and land development projects, and credits its success to its extensive knowledge and superior customer service. The Emerson Group emphasizes the importance of relationship building as a leading factor that sets it apart from other firms. For more information, visit http://www.emersongroup.net.
About SecureLink
SecureLink is a private, Austin-based software company founded in 2003. They specialize in software platforms for third-party access and enterprise remote support. The team at SecureLink is dedicated to developing quality solutions to a variety of industries, including healthcare, financial services, government and gaming, with a focus on superior customer service. SecureLink has grown to be a global company with an office in Costa Rica, and serves over 30,000 organizations worldwide. For more information, visit http://www.securelink.com.
***