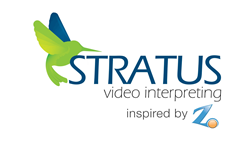 Many refugees have endured unspeakable horrors of war, so compassion and comfort become an essential part of delivering quality care to those patients.
Clearwater, FL (PRWEB) October 01, 2015
More than 7 million Syrians have been displaced by war, creating a growing refugee crisis for the United States and Europe; in response, President Obama recently pledged to take in at least 10,000 Syrian refugees within the next year (1). As government agencies prepare to resettle these refugees in communities nationwide, Stratus Video Interpreting—a leading provider of on-demand interpretation services—urges healthcare administrators to be ready to meet the rising need for medical interpreters among refugee patients with limited English proficiency (LEP).
While current U.S. policies cap the total number of refugees from all nations at 70,000 per year, human rights activists and some members of Congress are calling for the administration to substantially raise that limit (1). A group of senators urged the president to heed Refugee Council USA's recommendation to resettle at least 65,000 Syrian refugees next year (2), and government officials have discussed raising the refugee cap to 100,000 per year (1).
Whether the final number of Syrian refugees accepted remains at current levels or increases, hospitals and healthcare providers nationwide will likely begin seeing more Arabic-speaking LEP patients. Of the 18,000 cases the United Nations has already referred for U.S. resettlement, many are torture survivors and individuals with special medical needs, and more than half are children (1).
"Government regulations require healthcare facilities to provide equal language access for LEP patients, so most already offer interpretation services. However, they may not have in-house resources to meet the predicted surge in demand for Arabic-speaking medical interpreters," explained David Fetterolf, President of Stratus Video Interpreting.
Fetterolf proposes on-demand healthcare interpretation services as a convenient and affordable solution for healthcare providers that do not have certified Arabic-speaking healthcare interpreters on staff and for those requiring supplemental interpretation support. He emphasizes that video remote interpreting (VRI) combines the benefits of onsite interpreters—including access to visual cues and the ability to follow patients throughout a facility via mobile technology—with the immediacy and affordability of over-the-phone interpretation (OPI), offering interpreter access in less than 30 seconds and a low cost-per-minute.
"Many refugees have endured unspeakable horrors of war, so compassion and comfort become an essential part of delivering quality care to those patients," explained Fetterolf. "At Stratus, we aim to give a voice to voiceless by providing information, comfort, advocacy and support, and enabling people from different cultures to connect in a simple, immediate and meaningful way. We are committed to helping improve the physical and emotional health of LEP patients and helping refugees overcome past traumas as they forge a new life here."
Stratus provides certified healthcare interpreter services in nearly 200 languages, including Syria's official language of Arabic and the Kurdish language spoken by Syrian Kurds. The company also features video remote interpreting for more than a dozen commonly spoken languages, and offers Arabic VRI with extended hours.
For more information on Stratus and its video remote interpreting services for limited English proficient patients, visit http://www.stratusvideo.com.
About Stratus Video Interpreting:
Stratus Video Interpreting provides on-demand interpreter services by using technology to connect clients with interpreters in over 175 spoken and signed languages in less than 30 seconds. Stratus' cloud-based video solution delivers an array of unique features to virtually any Internet-enabled PC, Mac, smartphone or tablet. Stratus clients use the technology to connect with their own staff interpreters, as well as with Stratus interpreters, who have years of healthcare and courtroom experience and hold multiple certifications. With Stratus, state-of-the-art video remote interpreting is made available with virtually no capital investment. Stratus averages 65,000 video calls a day, up from 40,000 in mid-2013. Stratus Video is the sister company of The Z® (CSDVRS, LLC, dba ZVRS), which was established in 2006 and developed by and for deaf and hard-of-hearing individuals, setting the industry standard as the nation's premier Video Relay Service Provider and the first VRS Provider to receive a 5-year certification from the FCC. In 2014, Stratus was recognized as one of the fastest-growing privately held companies, ranking #3,827 on Inc. magazine's Inc. 5000 list. For more information, visit http://www.stratusvideo.com.
1. Harris, Gardiner; David E. Sanger; and David M. Herszenhorn. "Obama Increases Number of Syrian Refugees for U.S. Resettlement to 10,000"; The New York Times; September 10, 2015. nytimes.com/2015/09/11/world/middleeast/obama-directs-administration-to-accept-10000-syrian-refugees.html
2. "Senators Urge President to Allow More Syrian Refugees to Resettle in U.S."; press release issued by Senator Dick Durbin; May 21, 2015. durbin.senate.gov/newsroom/press-releases/senators-urge-president-to-allow-more-syrian-refugees-to-resettle-in-us