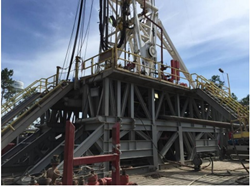 "After successfully logging the well, the data was reviewed onsite and it was determined that there were six potentially productive sands in the well." -- Michael L.F. Slaving, U.S. Emerald Energy
Houston, TX (PRWEB) October 01, 2015
U.S. Emerald Energy Company, LP announces a successful oil and gas discovery at its Rainbow Railroad Joint Venture in Orange County, Texas. The Houston-based company said it found three main formations at #1 Brown well during the testing phase.
The well was spud on July 31, 2015, by Coastal Plains Exploration, LLC after targeting proved undeveloped formations.
In total for the well hit, U.S. Emerald Energy estimates about 36 feet of potential net pay for the reservoirs discovered between three sandstone formations, with two oil zones and one possible gas zone.
H. Wilson Williams, consulting geologist for U.S. Emerald Energy Company, said the biggest discovery for the well hit is at the Struma Pink Sand reservoir, with a net pay of 18 feet, containing oil and gas.
The possible net pay for the Hartburg Sand reservoir is 10 feet of condensate and for the Hartburg 8445' Sand reservoir holding possible gas is estimated to be 8 feet.
"We have now finished drilling and testing the prospect," Michael L.F. Slavin, president and founder of U.S. Emerald Energy Company, said in a client statement announcing the discovery. "Logs and core samples show many good looking formations in the well."
Late August, the company previously reported the Rainbow Railroad JV well was flow tested successfully and yielded 2.25 million cubic feet of gas per day at over 4,100 pound per square inch, calling it a great start for the well. In the other ventures, U.S. Emerald Energy previously noted the well for the Sunshine Joint Venture in Cankton, Louisiana, was also performing with more than 100 barrels of oil per day and about 400 thousand cubic feet (Mcf) of natural gas on a 7/64 inch choke. Earlier this year, U.S. Emerald Energy revealed its second well project of 2015 called the Urban Joint Venture located in the Pridham Lake Field near Victoria, Texas.
For this latest discovery, Williams noted the company had no drilling issues, allowing the Schlumberger logging truck to reach a total depth of 8,525 feet (true vertical depth) ahead of schedule on August 16, 2015.
"The hole was in excellent condition and Schlumberger ran to the bottom of the well and logged out without any issues," Slavin said. "After successfully logging the well, the data was reviewed onsite and it was determined that there were six potentially productive sands in the well."
U.S. Emerald Energy plans to work on one zone at a time until the well bore is completely depleted.
With the company's last two projects progressing on or ahead of schedule, U.S. Emerald Energy Company is excited for the future of its current ventures. Since the current economic climate allows for lower drilling costs, investors could take advantage of this for a potentially higher return on investment. Investors interested in oil well investment opportunities can look forward to tax deductible investments to diversify their portfolio and grow their income streams.
About U.S. Emerald Energy Company, LP
U.S. Emerald Energy Company, LP, is a Houston, Texas-based oil and gas exploration and development company. Founded in 1992, U.S. Emerald Energy is dedicated to helping individuals invest in oil and gas ventures, involved in prospecting, leasing, drilling and producing critical resources. The company has expertise in working with proved undeveloped formations, focusing on developmental wells. Employing the latest technologies, U.S. Emerald Energy has a history of safely drilling oil and gas. More information can be found at http://www.usemeraldenergy.com/.