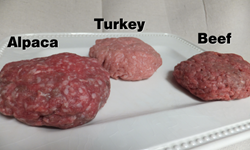 If life gives you alpacas, make burgers.
Sterling, Virginia (PRWEB) September 30, 2015
Alpacas can make for great eating, according to author Joe Budzinski, who believes the meat is a natural fit for the American palate.
His new book, Joe's Original Alpaca Burger Cookbook, contains recipes and preparation tips designed to make the exotic meat more accessible to American consumers.
"Alpaca is a surprisingly pleasant meat, and turned into ground meat it makes some of the best burgers you will ever taste. The food segment of the industry has lagged here, but I think more and more farmers will come around, and when they do, the customers will follow."
According to Budzinski, the alpaca-raising business may not have turned out profitably for everyone who bought into the lifestyle during the early 2000s, but food production could provide a another chance for farmers whose fleece sales never got off the ground. Long recognized for their food value in parts of South America, alpacas in Australia are now increasingly considered an acceptable meat choice. In fact, a segment of the Australian alpaca industry has begun to try to shift the public perception of alpacas, from cuddly to yummy.
Budzinski says, "As a mild red meat, alpaca is a step above anything you'll typically find in the supermarket. It is available online from a few sellers, and I think more farmers will be selling it locally. Objectively speaking, turning them into meat may be the best use for alpacas when a farmer doesn't have the resources to keep them around for scenery. The fleece market might still take decades longer to develop."
To those farmers whose alpaca experience has been a disappointment, Budzinski offers a message of hope: "If life gives you alpacas, make burgers. There is usually a way to turn a tough situation into a better one, and the alpaca may be the best embodiment of this life lesson."
For more information on Joe's Original Alpaca Burger Cookbook, please visit AlpacaBurger.com.
Published by Dulles Life Center, Joe's Original Alpaca Burger Cookbook is now available from Amazon and other retailers.